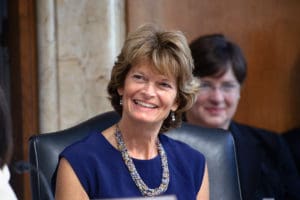 U.S. Sen. Lisa Murkowski (D-AK) has called on Senate leadership to help fund more resilient and sustainable infrastructure in Puerto Rico.
The recent hurricanes "exposed the vulnerability of Puerto Rico and U.S. Virgin Islands electric grids to extreme weather, with some communities projected to face months without reliable power. This is unacceptable," Murkowski said in a letter to Majority Leader Mitch McConnell (R-KY) and Minority Leader Chuck Schumer (D-NY.)
"While the immediate assistance should focus on essential supplies to protect the safety of individuals, over the long term we should help rebuild infrastructure – like the electric grid – with modern technologies that are stronger and more resilient against extreme weather events," she said.
Murkowski said decentralized systems in micro-grids rather than large, unitary grids can improve reliability and save money.
"There are many instances of distributed energy keeping important facilities online after natural disasters, including the Texas Medical Center, the largest medical complex in the world, which has a combined heat and power plant that kept running during Hurricane Harvey," she said in her letter.
According to Murkowski, the costs of distributed clean energy, including solar, wind and battery storage, can making them as or more affordable than traditional systems.
"Hurricanes Irma and Maria wreaked destruction and caused enormous human suffering in Puerto Rico and the U.S. Virgin Islands," she said, continuing that "it is imperative that we provide the necessary federal assistance for the millions of Americans trying to recover."
Gov. Kenneth Mapp (I-VI) issued a statement in response, thanking Murkowski.
"As we meet the immediate needs of our residents, we are very focused on the future resiliency of our hospitals and schools. We also believe mitigation efforts to lay the U.S. Virgin Islands' power lines underground are critical," Mapp said.
"We cannot do this alone and are thankful to our partners in Washington for placing the sustainability of our territory firmly on their agenda," he concluded.