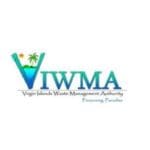 Since Oct. 12, there has been a light shining all night just inside the entrance area to the Susannaberg Transfer Station on Gifft Hill, St. John, as a result of an initiative by the Virgin Islands Waste Management Authority (VIWMA) and Roger E. Merritt Jr., its executive director. The bright light is being generated by a state-of-the-art solar streetlight capable of functioning under virtually all conditions for the next 10 years without maintenance.
The solar street light at Susannaberg, installed by local contractor Paul Pono, is on loan from Recovered Energy Technologies (RET) based near Ottawa, Canada, and is manufactured in France by Sunna Design. Distributed by RET, this technology recently received the New Energy Pioneer Award from the Bloomberg Group that, coincidentally, is involved in U.S.V.I. relief due in part to one of Bloomberg's co-founders, Tom Secunda, a part-time St. John resident.
In the past month, the technology and warranty behind it have also been favorably recognized since hurricane Irma's Florida rampage in an extensive study completed by Panasonic. The Chesney Foundation is looking closely at this technology to light up areas of St. John that will not have electricity for some time to come.
William Jerome, a Vermont native, lawyer and solar energy proponent who lived on St. John with his family for 20 years, represents RET and brought the solar light to his old home. Traveling through the Miami airport en route to St. Thomas, he was told to leave his seat on one of the few commercial flights and see TSA whose agents wanted to determine exactly what was in the large, well-marked "Solar Light Emergency Relief," wooden box in his checked baggage.
A day later, Jerome was allowed to proceed to St. Thomas with the solar light and to connect with Paul Pono, the contractor, Harith Wickrema, the chairman of VIWMA's Board of Directors, and Roger Merritt, the executive director — all of whom were involved in the approval and installation of the light at the Susannaberg facility. Clearly more lights are needed with direct installation on their own 24-ft. poles, requiring no wires, no interconnection to the grid, and no noise from generators or fuel consumption.
The solar street light technology installed at Susannaberg leads the world with its ability to continue providing light during long periods of inclement weather. "These lights are well suited to islands and remote areas that experience a wide range of weather," said Pono while pointing out similar Sunna solar street lights installed at a Florida development near Tampa called Epperson Ranch. "They were the only lights working in that area right after taking the recent hit from Irma," he said.
Inevitably, the Virgin Islands will be confronted with another major hurricane. According to RET, the solar street lights could be installed throughout the U.S.V.I. in short order and not only solve a problem today but also provide light during and after the next potentially catastrophic storm.