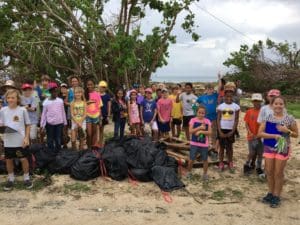 Although hurricanes Irma and Maria curtailed many planned coastal cleanups across the territory, some St. Croix groups have been able to participate in Coastweeks. Friday, a group of about 40 fifth and sixth graders from Good Hope Country Day School worked to clean a Frederiksted beach. Before Hurricane Maria hit St. Croix, there were two cleanups on St. Croix, one at Southgate Coastal Reserve, organized by SEA, and one at Dorsch Beach, organized by the UVI Psychology Club.
Coastweeks, a part of The Ocean Conservancy's International Coastal Cleanup, is a time where hundreds of thousands of volunteers across the globe clean beaches and waterways. It is the largest volunteer event that takes place on behalf of the environment. St. Croix Coastweeks coordinator Marcia Taylor said in a statement.
"This year due to the storms we only had a fraction of the 1000 volunteers we usually have in the Territory participate. We will however continue to support groups who want to clean our marine environment beyond the official end of Coastweeks on Oct. 31," Taylor said.
If you are interested in doing a beach clean-up on St. Croix call UVI's Marcia Taylor at 692 4046.