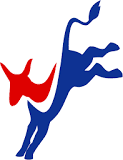 The untimely death of the National Democratic Party Committeeman Luis "Tito" Morales has left that position vacant. It is a four-year position that represents the territory on the Democratic National Committee (DNC), and it cannot be left vacant for the remaining more than two years.
The Democratic Party V.I. announces a special election to fill the seat. Candidacy is open to all male Democrats residing in the Virgin Islands and in good standing: active in the party and current in his dues.
Following what is prescribed in the current bylaws, the election will be held at the next Territorial Committee Meeting (date still to be determined), and it requires a two-thirds vote.
Any Democrats who are not in good standing but want to run for the position should reach out to their respective district chair: Edgar "Baker" Phillips on St. Thomas; Lauretta Petersen on St. Croix or Ivy Moses on St. John.
Letters indicating interest to be considered for the position of National Committeeman are to be addressed to State Chair Donna Christensen and forwarded by email to virginislandsdemocraticparty@gmail.com or by mail to Secretary Shelley Thomas, PO Box 2912 Kingshill. VI 00851-2912 by Nov. 20. An email address, mailing address and contact phone number must be included.
Responsibilities of the National Committeeman are:
To serve as liaison between the local Democratic Party and the Democratic National Committee (DNC).
To serve as a member of the DNC and attend meetings whenever possible
To serve in a local party leadership capacity and as an active member of the party's executive committee and Democratic Territorial Committee
To uphold and abide by the bylaws and rules that govern the party
To advocate for the advancement of the party and the overall good of the people of the Virgin Islands
To support Democratic candidates for office