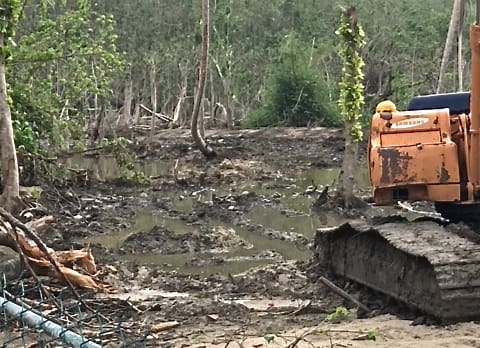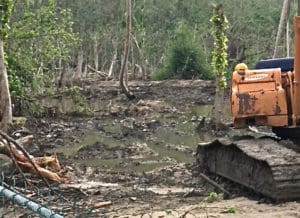 The V.I. Department of Planning and Natural Resources on Monday told the owner of popular Northside hang-out Hull Bay Hideaway to halt work being done near the restaurant, work that brought an excavator within feet of protected mangroves.
The presence of the excavator and what appeared to be the transport of beach sand into storm-damaged wetlands alarmed residents of Hull Bay weeks after Hurricanes Irma and Maria traumatized St. Thomas. No coastal zone management permits were acquired for work on the site.
The property on which the work was occurring is one of 15 parcels purchased in April by Magens Bay Management LLC, an entity registered to Lee Steiner, founder of USVI Sotheby's International Realty.
Steiner was nominated by Gov. Kenneth Mapp to sit on the V.I. Port Authority Board in August.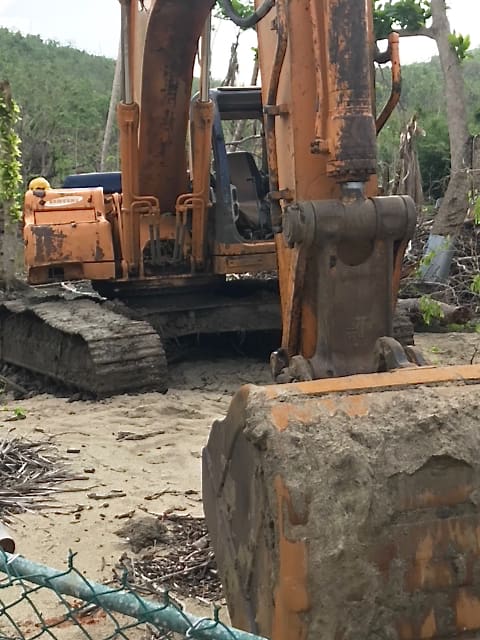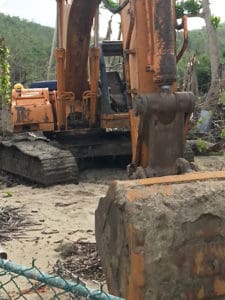 Magens Bay Management's purchase of the Hull Bay properties was financed with a $3 million mortgage that neighbors worry is unlikely to be paid off without major new development at the tranquil Northside beach, an assertion that Steiner disputes.
Steiner told the Source in July that he has no plans to significantly change "the current look and feel" of Hull Bay Hideaway and its adjacent properties, but many members of the Hull Bay community, which has opposed large-scale development in the past, are keeping a watchful eye out. (See Related Link: "Despite Large Mortgage, Developer Says Hull Bay Hideaway Won't Change Much.")
A large portion of Hull Bay's mangroves were decimated in September's devastating hurricanes, but "maintenance work" being done around Hull Bay Hideaway appeared to some neighbors to be beyond the scope of normal post-hurricane clean-up, prompting a site visit by DPNR.
DPNR spokesman Jamal Nielsen said that a representative of the property's owner submitted a letter informing the department's CZM division of his intention to do maintenance, and CZM officials visited the property before work began.
V.I. law allows individuals to repair and maintain properties within the coastal zone without permits if those activities don't result in expansion of or addition to existing development, which isn't exclusively defined as built structures.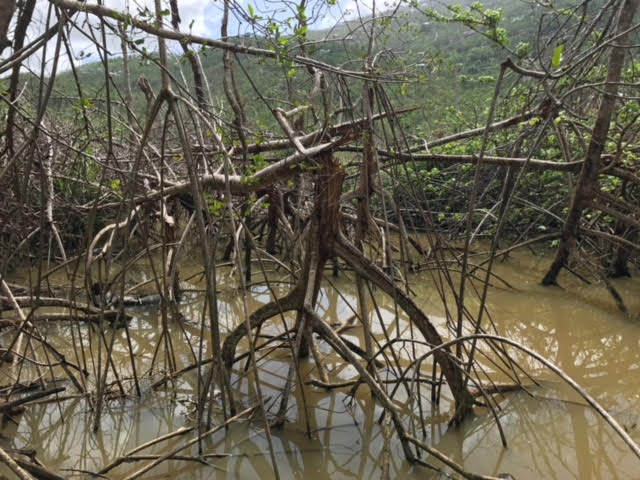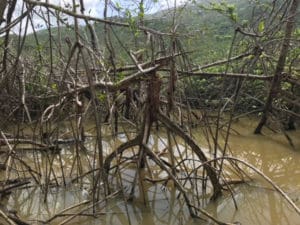 Activities other than construction that require a CZM permit include placement or removal of any fill, the removal of vegetation, and "grading, removing, dredging or extraction of any materials."
Nielsen said DPNR is requesting more information about the work being performed in Hull Bay to determine if it will be allowed to resume.
"The owner received no permits from CZM to bring heavy equipment into the mangroves," he said.
Fines for deliberate violation of the V.I.'s coastal zone management laws are between $1,000 and $10,000 per day for each day a violation occurs.
Other than routine maintenance, the only other CZM permit exemptions under V.I. law involve cases in which life or public property is under immediate risk, or public works or utilities must be repaired.