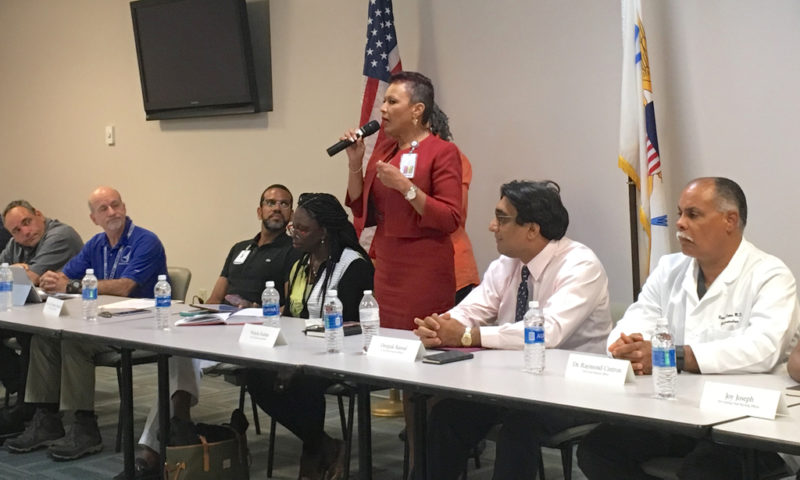 The storm-damaged structure of the Juan F. Luis Memorial Hospital will have to be demolished, but the hospital's new Chief Executive Officer Wanda Ruben said JFL will continue to serve the whole community while a new facility rises to in its place.
Ruben was introduced to the community Thursday at a town hall meeting. Also at the gathering, held in the V.I. Cardiac Center's conference room, were JFL board members, hospital administration and staff, and newly reappointed Chief Financial Officer Deepak Bansal
Ruben told the audience the chance to return to St. Croix and serve the hospital was "indescribable."
Originaly from Estate Profit, Ruben left the island with her five children after Hurricane Hugo. She said a hospital would not give her youngest child care because she didn't have insurance. That incident has colored her approach to health care. She said she wants to make sure JFL serves the whole community, regardless of economic situation.
"I stand for my patients. I stand for my employees," she said.
She returned three months ago to help her mother through some health issues, and she said Thursday she's not going anywhere in the near future.
JFL took a beating from Hurriane Maria, and "behind the walls, it is not safe," Ruben said.
Troy deChabert-Schuster, acting chairman of the JFL governing board, said the hospital already had many pre-storm issues. All the water that came in during the hurricane caused "grave deterioration and widespread growth of mold," he said. Water came in on the second and third floors of the hospital.
Currently, the adjoining Virgin Islands Cardiac Center has been turned into a makeshift hospital on the second floor, with 25 beds, even though the area had only been slated to house 15 beds.
The postpartum, labor and delivery, neonatal intensive care, intensive care and two rooms in the emergency room were not as severely damaged as the rest of the structure, but overall the damage was so severe that the hospital building will be demolished.
In the meantime, all departments of the hospital will be moved into a series of modular units for as long as four years, deChabert-Schuster.
Hazel Philbert, vice president of quality and performance improvement, said the modular development will come in three phases, all of which are to be completed by the end of December.
The temporary hospital will consist of 22 modules, two of which will be 20 by 20 feet and 20 of which will be 19 by 25 feet. They will be fit together with a design allowing the hospital staff to maintain an emergency room, operating room, intensive care unit, labor and delivery rooms, neonatal inensive care, and other hospital services, Philbert said. There also will be ancillary divisions within the modules, such as a laboratory, pharmacy, and radiology facility.
By the end of December, Philbert said she hoped for a fully functioning temporary system.
DeChabert-Schuster said the new hospital building will be built with money from the U.S. Congress, and will most likely be slated to a lower capacity than the current JFL facility, which is licensed for as many as 188 beds. The facility has not been used to capacity, deChabert said.
Heakth Commissioner Dr. Michelle Davis said there are plans to build a forensic and non-forensic facility on St. Croix for mental healthcare. Land was donated to the government on which these facilities will be built. The Department of Health also received a $400,000 grant for behavioral health and this program will be rolled out in the territory in the next few weeks.
Asked how modern the new hospital will be, deChabert-Schuster said, "We will have a state of the art hospital."
Ruben ended the night by telling the audience, many of which included hospital staff, "I'm here to work and create a team."