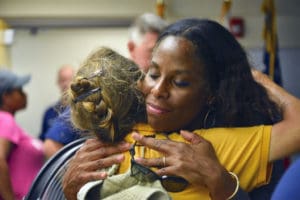 High-ranking Republicans and Democrats in Congress have already signaled support for funding more robust infrastructure in the U.S. Virgin Islands as V.I. legislators prepare to travel to Washington D.C. to meet with members of Congress next week at the invitation of Delegate Stacey Plaskett (D-V.I.)
At stake is the next supplemental appropriation bill soon to be before Congress.
Governors and officials from Texas, Florida, Louisiana and Puerto Rico have also visited Washington to press the case for their constituents, Plaskett said. So she has invited V.I. officials to help press the territory's case.
"I have invited them to assist me in that discussion, to really drive in the point," she said Thursday.
She and Gov. Kenneth Mapp (I-V.I.) will testify to Congress, and V.I. legislators are going to meet with members of Congress and staff, she said.
President Donald Trump recently signed one supplemental appropriation with funding for the territory.
For weeks, Plaskett has been pushing V.I. officials to prepare their requests for the next supplemental, saying this was likely the best chance to get substantial help, partly because there are no offsets being asked for now. The Republican-led Congress is likely to request offsetting cuts somewhere else in any future funding requests. If somewhere else has to be cut, it will be much harder to persuade members of Congress to support new funding, according to Plaskett.
The bill has not been drafted or introduced yet, but it may include help with roads, school construction, matching fund waivers and other substantial financial help for rebuilding and recovering.
A week ago, Plaskett and V.I. Water and Power Authority Executive Director Julio Rhymer testified to two different committees, urging members of Congress to help with roads, schools and electrical infrastructure.
Rhymer emphasized spending a bit more to rebuild the electrical system more resistant to storms and Plaskett similarly said the roads and public buildings were under-financed before the storms and should be rebuild more robustly.
"I think having members of the Legislature come down really drives the point into them," Plaskett said Thursday.
She said she had a discussion with Rep. Bill Shuster (R-PA), the chair of the Transportation and Infrastructure Committee, after Shuster visited the territory over the weekend, "and he as well noted this can't be rebuilt again in the same manner." They were in agreement the territory's infrastructure needs to be rebuilt stronger "so we can withstand these types of hurricanes moving forward," Plaskett said.
"If you have to build it again at $100, why not pay $150 now so you don't have to spend yet another $100 to rebuild it in again in the future," Plaskett said.
"I think there is a growing consensus this needs to be done," she said, adding that the supplemental appropriation should have that sort of language and dollars to back it up.
House Majority Leader Kevin McCarthy (R-CA) and Minority Whip Steny Hoyer (D-MD) jointly penned an Op-Ed published Wednesday in the Washington Post endorsing that very approach.
"Virgin Islanders are doing everything they can to rebuild their lives, but they are counting on Congress to ensure that they have the resources necessary to do so," the Republican and Democrat wrote.
They said they returned with a "shared sense that Congress must work together to do more to help the people we met."
More to the point, the two said one way to give that help is "by changing the law to allow the Federal Emergency Management Agency, Army Corps of Engineers and other federal agencies to rebuild damaged infrastructure – including buildings, roads, bridges and the power grid – not merely to the vulnerable state they were in before but to modern, 21st-century standards that can withstand future storms."
"Making those investments now will save taxpayer dollars in the long run," the two agreed in their joint editorial.
That sort of explicit support from both sides of the aisle bodes well for its chances for approval.
The supplemental appropriations bill has yet to be drafted, and may be introduced through the Appropriations Committee or introduced on the floor. Plaskett said she expected it would be drafted and voted upon before Congress leaves over Christmas.