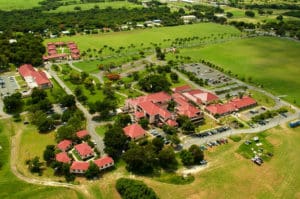 The University of the Virgin Islands Alumni Call Center is hosting its second annual Thank-a-thon from Nov. 19-20. Alumni will be phoned and thanked for their contribution to UVI over the years. The thank-a-thon is primarily powered by highly trained UVI students and seeks to show appreciation of the support shown by alumni and the global community. This year one of the primary initiatives to be thankful for is the "55 for 55" Alumni Challenge.
"This experience of speaking with alumni and stories shared, especially from the CVI alumni, are memorable," said Lakeesha Laudat, a sophomore majoring in computer science with roots from Dominica. She is one of the lead callers at the center. "I'm grateful for being awarded with the opportunity to connect with alumni hailing from my alma mater and dually aiding my beloved university with our 55th year goals."
Geron Richards, a senior majoring in English and the great-nephew of UVI's second president, Dr. Arthur A. Richards, felt working in the UVI Alumni Call Center made him realize he is beneficial to the community. He said he has played a role in allowing other students who want to pursue their degree to come to UVI with the assistance through scholarship opportunities.
"I feel great about giving back to my community," said Richards. "Also, it is true to state that the Virgin Islands is a very diverse territory, compromised of various ethnicities. It felt good that I was able to promote scholarships that would help fellow Caribbean national students."
"We are proud to say that we have not only met this $55,000 match gift challenge, but we have doubled it in the amount of over $110,000," said Linda Smith, director of Annual Giving and Alumni Affairs. Over 1,600 alums donated to the challenge. This is one of the largest campaigns ever launched and again alumni and friends showed support of their hometown university. We have a dynamic and multi-cultural team who remains excited about this campaign and wants to reach out and say thank you," Smith said.
The "55 for 55" campaign empowered alumni chapters in the Virgin Islands and other Caribbean nations to directly fund their very own academic scholarships. Alumni chapters in St. Kitts, Nevis, St. Maarten, the British Virgin Islands, Anguilla, St. Eustatius, Saba, St. Maarten, St. Lucia and Dominica amongst others each have formalized scholarships, which will directly benefit students from their countries. In honor of their institutional pride, all funds raised for each country will be awarded to a prospective or current student, as directed by the alumni scholarship.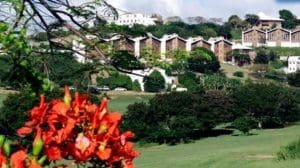 OmniSystems' Ian Tomlinson and Reginald Vigilant, UVI alumni, also partnered with the university by having a promotional drawing. All alums who donated $55 or more to the university between Oct. 1, 2016 and Sept. 30, 2017, were automatically entered into a drawing to win two round trip tickets to the Nation's Capital, Washington, D.C., for a weekend as well as two tickets to the Smithsonian National Museum of African American History and Culture.
The winners of the drawing will be announced during the "Pizza on the Lawn" social to be held at noon, Wednesday, Nov. 29, on the Albert A. Sheen Campus on St. Croix. The Great Alumni Challenge winners will be announced at this free event and alumni are encouraged to attend. The social is co-sponsored by UVI Student Activities and the Office of Institutional Advancement; it will be streamed via a Facebook live video, so please follow the UVI Alumni Network page on Facebook.
The UVI Alumni Call Center reminds alumni that the thank-a-thon is not a solicitation call. The point is not to call and ask for money but to call and express gratitude for the support of the community throughout the 55 years of UVI's existence.
For more information, call (340) 692-4023 or rosan.waltersmulley@live.uvi.edu