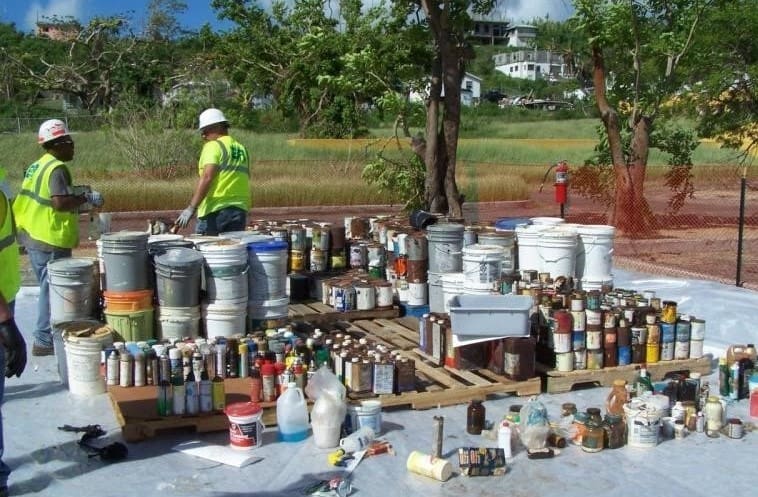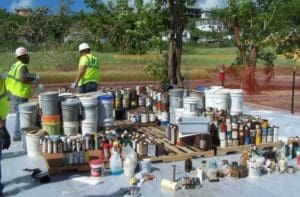 The U.S. Environmental Protection Agency (EPA) is working with local governments and residents on St. Croix, St. Thomas, St. John and Water Island in the U.S. Virgin Islands to keep hazardous materials out of the environment and minimize the amount of waste going to landfills through household hazardous waste collection events.
"As part of our continuing response to hurricanes Irma and Maria, we want to protect people and their families from potential dangers of hazardous items such as batteries, motor oil, old paint and pesticides," said EPA Regional Administrator Pete Lopez. "These items can pose a threat to people and to the environment, so it's important that they are disposed of properly. EPA's goal is to help residents protect themselves and their community by separating potentially hazardous products from their regular trash."
Household hazardous waste includes aerosol cans, household cleaners and chemicals, paint, and electronic items such as computers and televisions. Household hazardous materials also include car and marine batteries, which have become a major concern due to the large volume of batteries being used by residents who are without power. Household hazardous waste should not be thrown out with regular trash as it can contaminate the land, waterways and groundwater.
In the USVI, EPA personnel have evaluated and identified collection pad locations for household hazardous waste. Residents should drop off their household hazardous waste at the collection pad location closest to them.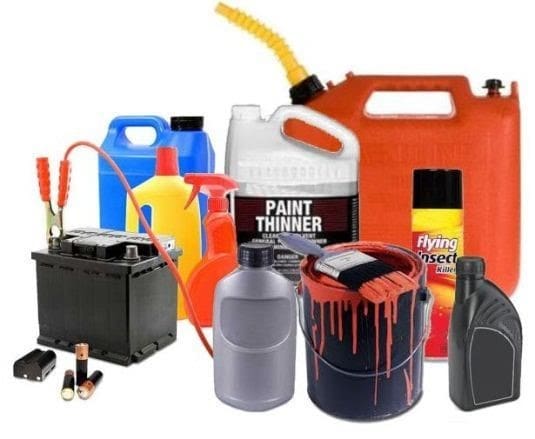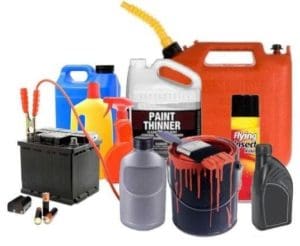 When transporting household hazardous waste to collection sites, residents are being asked to seal containers tightly, and bring their waste in its original container if possible. If the original container is leaking or residents are using a different container, they should label the container with its current contents. Products should not be mixed, as it can cause a very dangerous, and sometimes fatal, chemical reaction.
St. Croix Collections:
Free collection every day from 8 a.m. to 5 p.m.
Evelyn M. Williams Elementary School, 13A Mt. Pleasant, Frederiksted, St Croix
Free One-Day collections:
December 9 from 8 a.m. to 4 p.m., Home Depot, 1105 Barren Spot, Kingshill
December 16 Sandy Point National Wildlife Refuge, Headquarters Building Parking Lot, Tranberg Road, Frederiksted
Roaming pickups coming soon
St Thomas Collections:
Free collection Monday through Saturday, from 7:30 a.m. to 4 p.m.
Addelita Cancryn Jr. High School, Route 30, Charlotte Amalie
Gasworks (Lima property), 7405 Estate Bovoni
Bovoni Landfill
St. John Collections:
Free collection Monday through Saturday, 7:30 a.m. to 4 p.m.
Myrah Keating Smith Community Health Center, Centerline Road
Roaming pickups ongoing
Water Island Special Collections:
Free collections on December 5 and December 7
Water Island Waste Transfer Site, AREA V, Water Island
EPA can take these hazardous items:
Spray paint
Car and marine batteries
Household batteries
Fluorescent bulbs
Paints and paint thinners
Household cleaners and solvents
Pesticides, weed killer, insect repellents
Propane
Gasoline
Auto fluids
TVs and computers
Fire extinguishers
EPA CANNOT take these items:
Explosives / Radioactive materials
Asbestos
Compressed gas cylinders
Large appliances (air conditioners, refrigerators, stoves, washers and dryers, etc.)
Curbside debris (regular household trash, trees, branches)
Medical / Infectious waste
For questions about EPA's household hazardous waste collection program in the V.I., the public can call EPA toll free at 888-283-7626.
For more information and photos, visit EPA's Hurricane Maria website and Hurricane Maria story map.