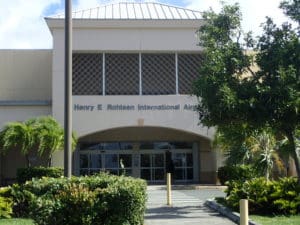 Four passengers and the pilot on board a twin engine plane died Thursday night after a crash landing at St. Croix's Henry E. Rohlsen airport.
According to the V.I. Port Authority, the small plane crashed at 8:54 p.m. Thursday. The aircraft was a private plane that experienced mechanical issues that caused the crash, VIPA spokesperson Monifa Marrero Brathwaite said in a statement.
Names of the deceased are being withheld pending notification of next of kin. The incident is under investigation, Brathwaite said.
The Source has confirmed from aviation industry sources that the plane had arrived on St. Croix to pick up members of a popular St. Croix band and was returning to St. Thomas. Giving the name of the band would have the effect of identifying the victims.
It is being widely reported that shortly after takeoff, the pilot attempted to return to the Rohlsen airport and crash landed. It is not clear whether weather or mechanical problems contributed to the pilot's decision to return to the airport on St. Croix.
One public safety official said that the plane had attempted to return to the St. Croix airport but caught fire before it was able to attempt a landing.