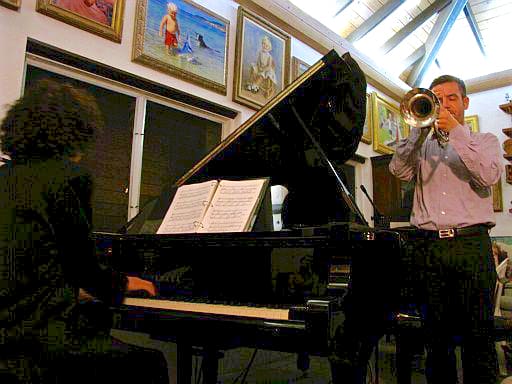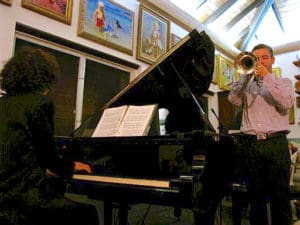 In spite of the storms that raked the islands, there will be a Water Island Music Festival in January, but in a new location and for a limited run, its organizers announced.
Julian Gargiulo, the New York classical pianist who helped start the annual event 13 years ago, and his friends will appear for one-night-only on Saturday Jan 20 at 7:30. On the program for the 13th Water Islands Music Festival, will be trumpet maestro Joe Burgstaller, pianist Maria Yefimova, operatic soprano Rosa Bulat, plus the winning violinist of the "Getting to Carnegie" Competition, who will be named Jan. 14 at Carnegie Hall in New York.
"We had contemplated canceling the festival since Hurricane Irma washed away all of the chairs we
usually use," organizer Alex Randall said in a news release Tuesday. "But Julian was so insistent, 'The show must go on,' that I relented and made plans. We are very fortunate that Neil Prior and The Forum allowed us to fit into their schedule and hold the festival in the Prior-Jolleck Hall of Antilles School," Randall said.
Special this year will be local musician, soprano Laura Strickling. There will be other surprise guests.
The concert entitled "Bach to Brubeck" is a mix of musical genres, jazz, classical, opera and modern pop music. The audience also will hear the premiere of Gargiulo's most recent violin and piano sonata.
The concert is free but the group will pass the hat for contributions to cover expenses and the musicians' airfares, Randall said.
"Please bring a fist full of twenties," he said. He pointed out that in New York tickets for Gargiulo's Carnegie Hall concert cost $100.
"We want students to be able to attend and discover the variety of musical forms in the WIFM, and those who can afford to be supportive, we ask that you be generous," he said.
Gargiulo's musical friends have agreed to contribute their usual fees to make this event a fundraiser for two charitable organizations – the Boys and Girls Clubs of St Thomas and the Water Island Search and Rescue.
"Both are hurting after the storms and they need all the help we can give them," Randall said.
Gargiulo and his group of Carnegie Hall musicians will be on stage one night only, at 7:30 p.m. Jan. 20 at 7:30 at the Prior-Jolleck Hall of the Antilles School.