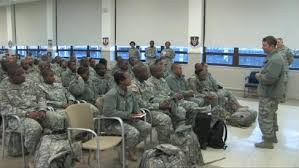 The Adjutant General for the Virgin Islands (VING), Brigadier General Deborah Y. Howell, announced her selection for the Army National Guard (ARNG) Minuteman Scholarship. General Howell nominated Private (PV2) Resean Donastorg for the scholarship on Aug. 15.
The scholarship benefits include full tuition and fees (uncapped) or room and board (flat rate of $10,000 per year) at the participating university of attendance. In addition, the scholarship recipient receives the ROTC Cadet monthly stipend and a book stipend of $1,200 annually ($600 per semester).
PV2 Donastorg entered the military on June 21, 2016. His unit is the VING HHC 786th Combat Service Support Battalion (CSSB) on St. Thomas, V.I., and his military profession is as an information technology specialist. He graduated from the Charlotte Amalie High School (CAHS).
To be nominated for the Minuteman Scholarship, the soldier/applicant must have an approved academic major and be a current drilling ARNG member. Other requirements include enrollment in ROTC at a university of attendance, have a 2.5 GPA to accept the scholarship and 2.0 GPA to maintain scholarship eligibility, or 19 ACT-920/1000 SAT for incoming college freshman. The applicant must be a U.S. citizen between the ages of 17-30.
The nomination screening process required the soldier/applicant to complete interviews with the VING adjutant general and an ROTC professor of military science. PV2 Donastorg met the requirements and was nominated.
"After completing the interview, I was convinced the future of the VING is bright with upcoming leaders such as PV2 Donastorg," said Brig. Gen. Howell. "His zeal for wanting to be a part of solving current issues gives me hope in the next generation of guardsmen. He has promise and I am excited to have provided him this unique opportunity."
For more information on the ARNG Minuteman Scholarship or the ROTC Program at the University of the Virgin Islands, contact Capt. Josephine Hector-Murphy, VIARNG officer strength manager, by email: Josephine.hectormurphy.mil@mail.mil, or by phone: 712-8073 or by cell phone: 690-8128.