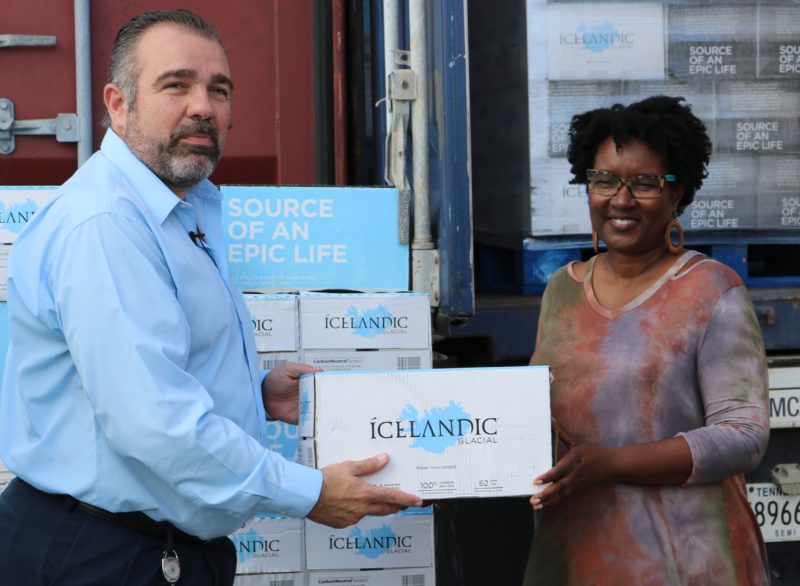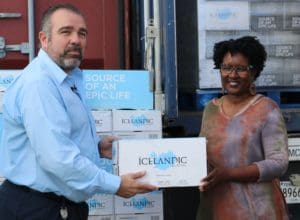 The Virgin Islands Department of Education (VIDOE) received 90,000 bottles of water in a large donation from Icelandic Glacial™ through VIYA on Tuesday, Dec. 5. The Iceland-based company, along with the Ben Stiller Foundation and singer Cher announced their partnership to provide the relief to residents of the hurricane-ravaged Virgin Islands and Puerto Rico.
Education Commissioner Dr. Sharon Ann McCollum praised the much- needed donation and expressed gratitude to the international private sector donors.
"The department is truly grateful for this generous donation. Our priority is the safety of our students, and something as simple as bottled goes a long way in making sure they are well hydrated with safe and clean water," McCollum said. "I'd also like to acknowledge public-private partnerships that benefit the youth of the Virgin Islands. These relationships are dear to me, so thank you to VIYA and Icelandic Glacial."
Both the St. Croix and St. Thomas –St. John Districts will receive one trailer of water to be distributed to schools throughout the territory. VIYA has been instrumental in facilitating the donation and has always been a strong supporter of DOE.
"We have about 90,000 bottles of water, that's almost one bottle per person in the islands that we're giving to the Department of Education because we understand that children in our schools need to be safe," said VIYA CEO Alvaro Pilar. We are very proud to be a part of this in-kind donation.
In early October, Icelandic Glacial™, Ben Stiller and Cher announced their plan to donate over 600,000 bottles of water to people across Puerto Rico and the U.S. Virgin Islands in response to the catastrophic hurricanes.
"This tragedy has had a devastating impact on the communities, and water is one of the most basic needs to get everyone back on their feet," said Jon Olafsson, chairman and co-founder of Icelandic Glacial. "With the assistance of Ben and Cher and the incredible reach of their voices, we hope that our water will not only reach the families in need, but also raise awareness for continued support from around the country," added CEO Reza Mirza.
This is not the first time Icelandic Glacial and Cher have teamed up to provide relief to a national crisis; the two made headlines in January of 2016 for sending water to the people of Flint, Michigan after the lead poisoning of local water. As one of the first high-profile people to speak out against the crisis, Cher had initially reached out to her friend and Icelandic Glacial investor Brad Horwitz, who was able to also connect her with the brand.
He made a similar introduction for Stiller and his charity, The Stiller Foundation, when they were looking for ways to help the people affected by the disaster. Icelandic Glacial had previously been one of the first major companies on the scene to donate water to Haiti relief in 2010 and to Canada's McMurray fire disaster in May of 2016.
"These two catastrophic hurricanes have devastated Puerto Rico and the U.S. Virgin Islands, forcing families there to rely on the support from people around the world," said Stiller. "I am partnering with Cher and Icelandic Glacial to provide some fundamental emergency relief as [the] residents work toward rebuilding their communities."