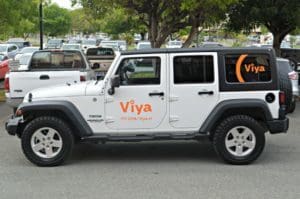 With significant resources designated specifically to the restoration of telecommunications services on St. John following hurricanes Irma and Maria, Viya brought back into service its first service node in Cruz Bay on Wednesday.
After re-establishing its main hub in Pastory earlier this month, Viya technicians are now focusing their efforts on the numerous nodes serving user communities across the island; the one in Cruz Bay is the first. Wireline phone and Internet service to some 15 percent of residential and business subscribers on that node has already been brought back, and restoration activities will continue steadily on this and other nodes. Customers are invited to monitor progress for their particular area via status reports published on the www.viya.vi website.
Restoration crew are progressing under the assumption that most, if not all, of the facilities entering subscriber locations were heavily damaged during the hurricanes and will likely have to be replaced. Therefore, visits to customer properties by Viya technicians are necessary. Using door hangers placed on customers' doors, the service provider will offer further information to consumers and businesses on how to schedule service appointments to arrange for re-activation of their service.
Mobile voice and data services on St. John are still pending awaiting Viya's replacement of cell-sites, virtually all of which were irreparably damaged during the storms. Recognizing the high priority of these services to its customer base, Viya is assigning substantial externally- contracted resources to the task at hand. The public will be properly informed via mass media as to the progress of those rebuilding activities.
"Viya is excited to have started bringing back services to the residential and business communities in Cruz Bay, and will aggressively continue its efforts throughout the remainder of St. John," said Alvaro Pilar, CEO of Viya. "Infrastructure on the island was damaged in an unprecedented way, but we are committed to rebuilding it stronger and better than it was before."