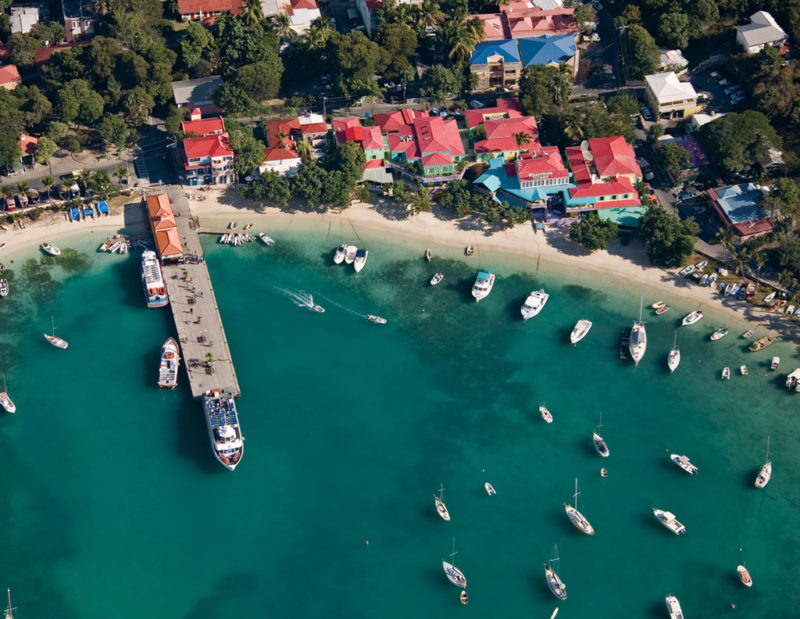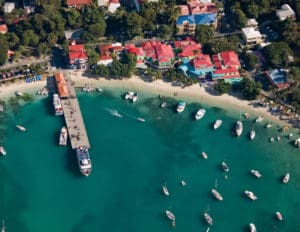 A zoning change being sought for Cruz Bay's beachfront shopping center, Wharfside Village, would bring the property's existing businesses – particularly its jewelry stores – into compliance with current zoning laws, an attorney representing the property's owners told senators during a hearing Tuesday.
WVJD LLC, the company organized by Wharfside's owner Joe DeCourcy, applied for a zoning change for the property in April 2017. If approved, the zoning designation for Wharfside would change from B-3 (business scattered) to B-2 (business secondary/neighborhood.)
In a letter to Senate President Myron Jackson that accompanied the rezoning application, DeCourcy wrote that the application was not submitted as part of any plan to further develop the property beyond existing uses, which include dining, gaming, retail shops, and residential rental units.
At a hearing before the 32nd Legislature's Committee of the Whole in Cruz Bay Tuesday, attorney Richard Bourne-Vanneck, representing WVJD LLC, said a change to B-2 zoning would bring legal clarity and conformity to the operation of multiple jewelry stores at Wharfside, which are not "permissible as a matter of right" under the B-3 zoning.
The jewelry stores at Wharfside currently operate under general retail shop licenses that are permitted under a B-3 zoning designation.
The shopping center in Cruz Bay that is most comparable in size to Wharfside, Mongoose Junction, has a B-2 zoning designation, which is meant for shopping centers immediately adjacent to primary business areas. A B-3, Wharfside's current designation, is meant for smaller retail business that primarily serve the residential districts in which they are located.
Bourne-Vanneck argued that Cruz Bay's core has become increasingly commerce-oriented and less residential over the decades since Wharfside Village was established, leading the property to outgrow its initial zoning.
He told senators that although no new development will be undertaken on Wharfside's property, WWJD LLC plans to spend between $3 and $4 million in "refurbishing and refreshing" the shopping center following damage caused by hurricanes Irma and Maria. WWJD LLC has been the owner of the property since 2016.
Senators present at Tuesday's hearing said they are likely to support the zoning change although no votes were taken at the information-gathering session. Senators present were Sens. Janelle Sarauw, Positive Nelson, Brian Smith, Dwayne DeGraff, Marvin Blyden, Janette Millin Young, Jean Forde, Alicia "Chucky" Hansen, Myron Jackson, Tregenza Roach, and Novelle Francis Jr.
Senators also said they are likely to support two other zoning change applications for St. John. One change will allow Aqua Blu Car Rental to relocate its existing operation to a new lot being purchased by the owners. The second change will allow for the construction of three story, six bedroom apartment building in Estate Contant.