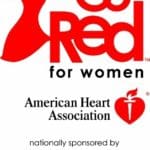 In their continued efforts to raise awareness of women facing heart disease, the Sigma Theta Omega and Rho Omicron Chapters of Alpha Kappa Alpha Sorority Inc. (AKA) are going RED for Women by encouraging the entire Virgin Islands Community to join in the fight against heart stroke and heart disease by wearing red on Friday Feb. 2.
For 110 years, tradition would have it that "Service to All Mankind" and pink and green were foundational aspects of the sorority, a worldwide organization. Members of the sorority will unite in showing their support for the American Heart Association's Go Red for Women® movement as they shed their pink for red, just one day.
Awareness is key, and as an organization built on addressing societal ills, the sorority actively commits every February to raise awareness about how women can take charge of their health. Every year, members of the sorority take the initiative to distribute life-saving information on ways to reduce, manage and prevent heart disease and stroke. These efforts to support women and serve the community will always remain steadfast.
This cause is one that the members share with family, friends, co-workers and the entire community. AKA encourages all women to visit www.GoRedForWomen.org for more information or to make a donation," said Donna Frett-Gregory, president of Sigma Theta Omega Chapter.
Heart disease is recognized as the No. 1 killer of women, taking the life of one in three women each year. African-American women are at an increased risk due to factors such as high blood pressure, high cholesterol, obesity and diabetes. As preventative measures, women should be physically active, eat a heart-healthy diet by controlling cholesterol, increase their fruit and vegetable intake, reduce blood sugar, and get educated about heart disease and its risk factors by making regular visits to the doctor.