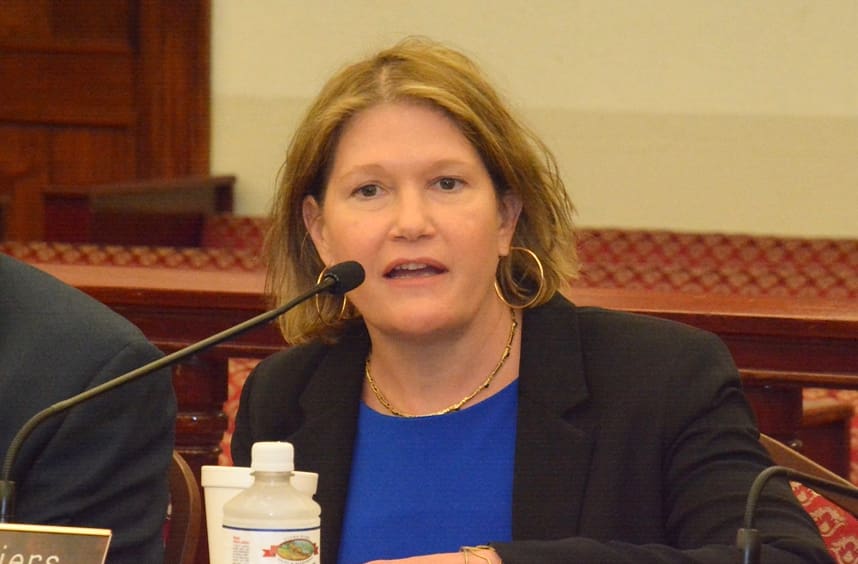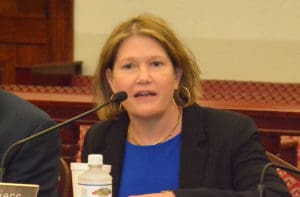 Whatever the secret reason Water and Power Authority Executive Director Julio Rhymer "separated" from the top job at WAPA with a $90,000 cash payout, it was definitely not for sexual harassment, WAPA Board Member Elizabeth Armstrong told the Rules and Judiciary Committee Friday.
Senators had lots of questions about Rhymer's departure Friday, while Hubert Turnbull and Elizabeth Armstrong appeared to testify on their nominations to new terms on the WAPA governing board.
Rhymer was head of WAPA a little more than a year, replacing former Executive Director Hugo Hodge Jr., who served in the post for eight years. Rhymer left WAPA abruptly and Mapp nominated him to serve as the head of the Office of Management and Budget.
At a hurricane recovery hearing Wednesday, Turnbull told senators Rhymer was given a $90,000 payout on leaving WAPA. WAPA is cash strapped and getting millions in loans from the federal government this year to help cover revenue losses due to last fall's hurricanes. WAPA is wholly owned by the V.I. government, which has a $453 million budget shortfall for the current year – about half its entire budget. That is only partly covered by a $250 million federal disaster loan this year. The territory is unable to borrow in the private marketplace.
Wednesday and Friday Senators asked about rumors of sexual harassment at WAPA and if they related to Rhymer's ouster. An unsigned letter has been circulating with a number of unconfirmed allegations. Turnbull told senators he did not know the terms of Rhymer's departure and that such allegations should probably be investigated.
Several senators questioned whether Rhymer should be confirmed as head of OMB before senators find out why he left WAPA.
"If we don't know if he resigned or was fired, then maybe he shouldn't be on the agenda," Sen. Tregenza Roach (D-STT) said Wednesday.
Thursday, the Rules and Judiciary Committee voted to hold Rhymer's nomination pending more information.
Friday, Armstrong adamantly insisted Rhymer was not fired and that no sexual harassment claims had been filed by any employee. However she also refused to give any details of Rhymer's departure, saying the public employee's agreement with the publicly-owned utility about funds belonging to the public was confidential.
"The board of WAPA had a confidential separation agreement," Armstrong said. She did not say why the agreement was confidential and senators did not ask.
"Rhymer was a very capable financial person," Armstrong added.
Asked about anonymous claims of sexual harassment, Armstrong said "that is something I would have taken very seriously," and that the separation agreement had "absolutely no mention of sexual harassment whatsoever."
She went on to say that WAPA currently has "no sexual harassment claims. We have zero claims at this time." She said that as a large institution, there have been employee complaints of many kinds over the years, but "we have zero claims at this time."
She said she spoke with the Human Resources Department and was assured they would have dealt with any allegations right away, "even if they were unsigned."
Senators asked about two widely-circulated letters claiming sexual harassment and other issues at WAPA. Armstrong said she was aware of those letters, but they were unsigned and that no one had actually filed any reports of any kind at WAPA.
"Was Mr. Rhymer let go for cause?" Sen. Positive Nelson asked.
"The board decided to move in a different direction. And so it was an agreed-to separation. It was not a termination for cause. Both parties agreed to separate," Armstrong said.
She said she had to be careful in speaking because of the confidentiality agreement.
Why the departure of the head of a government-owned company was confidential and why there was a large payment to a departing public official was not explained.
Several senators expressed frustration at the secrecy and lack of information.
"These are all public funds so it concerns this body," Sen. Janelle Sarauw (I-STT) said.
"We are not pleased with the manner in which Mr. Rhymer's exit from WAPA and appointment to the Office of Management and Budget was conducted," Senate President Myron Jackson (D-STT) said.
The Rules and Judiciary Committee voted to send three nominees on to the Senate floor for final vote. It sent on Armstrong and Turnbull for new terms on the WAPA board and Stacy Borne to the V.I. Casino Commission for St. Thomas.
Turnbull is a retiree who worked at WAPA for 20 years. His goals are to assist with the policymaking process that protects consumers of WAPA.
"I see myself and my role as a member of a collective body of the Governing Board as helping to ensure the proper process, policy, and procedural support for ongoing programs and initiatives," he said.
Armstrong is the heir and owner of the Buccaneer Hotel on St. Croix. She said her goals are to help WAPA implement several key objectives, including improving system reliability, cost minimization, renewable energy resource expansion and mitigation against future natural disasters.
Present at the times of the votes were Jackson, Sarauw, Francis, Nelson and Sammuel Sanes (D-STX) and. Absent at the times of the votes were Sens. Jean Forde (D-STT) and Janette Millin Young (D-STT).