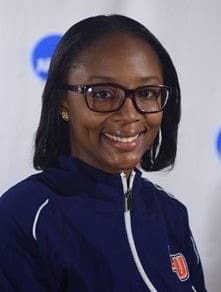 The Virgin Islands Track and Field Federation (VITFF) congratulates Lincoln University Indoor Track and Field athlete Krystahl Gordon, a member of the St. Track Club and a graduate of the St. Educational Complex High School. She has been named the Eastern College Athletic Conference (ECAC) Women's Division II Indoor Track and Field Female Rookie of the Week for her performance during the week of Jan. 8-14.
Gordon placed sixth in the triple jump competition at the (Historically Black Colleges and Universities (HBCU) Battle at the Track at the Armory in New York City on Friday with a jump of 10.68 meters (35′ ½").
Four Division I jumpers finished ahead of her and she was second among the D-II jumpers. The freshman jumper also won her flight in the long jump competition, jumping 4.88 meters (16′ ¼") and placing 10th overall. Her top jump was a collegiate-best mark. She was the top CIAA finisher in the event.
Gordon has competed as a VITFF Junior Team Member at CARIFTA Junior Championships and is making the transition to the Senior National Team. "Her achievement as a freshman in the horizontal jumps is impressive, particular given the fact that there were limited opportunities to train and compete at home over the past couple of years due to non-availability of track and field facilities," said Wallace Williams, general secretary of the VITFF.
"We expect that Krysthal will continue to progress… reminds us somewhat of Flora Hyacinth, our most accomplished multi-event track and field athlete… she left St. Croix for the University of Alabama and had never triple jumped, and after a few practice jumps became the first female in history to jump 45' in the event! She went on to finish 9th in the long jump in the 1992 Barcelona Olympic Games," Williams said.
For information, log on to: http://virginislandspace.org/vitff.html, call: 643-2557 or email: isv@mf.iaaf.org