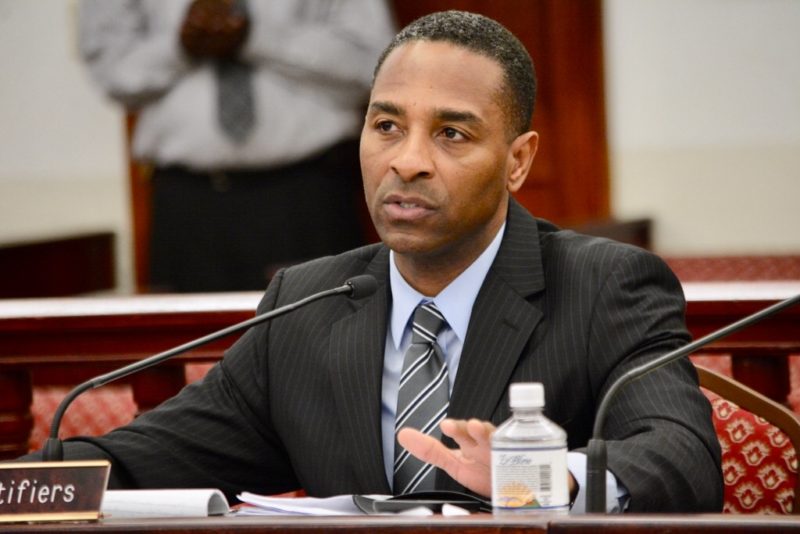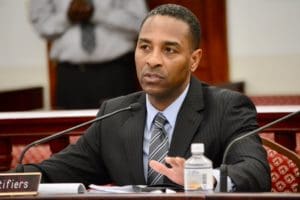 The Committee on Homeland Security, Justice and Public Safety Friday considered three laws to decrease crime in the territory, but the V.I. senators were cautioned by Attorney General Claude Walker on how far laws could go without violating constitutional rights.
An act proposed by Sen. Novelle Francis, a former police commissioner, strengthening the loitering law and increasing sentences for violation was seen as well-intentioned by the senators and the testifiers, but considered possibly over broad.
"For more than 1,000 years societies have enacted various loitering and vagrancy laws," Walker said. "These 'poor laws' — which serve as the precursor to modern vagrancy and loitering statutes— were first enacted in England during the seventh century as a method for feudal lords to keep their peasants from leaving."
He continued that the laws were seldom challenged until the last century, because the people charged with such violations could not afford to fight them. However, since then they have been challenged and overturned in recent years, and the legislature needs to be clear in its wording of the law.
As the law was proposed, it was "fraught with ambiguity and opens the door to random and inconsistent results regarding how officers will apply it," he said.
"Under what circumstances would there be cause for alarm or concern— would a police officer who thinks someone has drugs be a sufficient reason? Would a large group of young men together at night be reason for alarm or concern that would justify an officer asking questions or ordering individuals to identify themselves?" Walker asked.
"A law enforcement officer must have some reasonable suspicion – supported by articulated facts – that a crime has, or is about to, occur before they can legitimately order someone to answer questions about their identity."
Sens. Jean Forde and Positive Nelson agreed with much of what Walker said about how an over-broad loitering law could incriminate innocent people. Forde pointed out that Caribbean culture includes people hanging out, lymin' and playing dominoes.
Another area of concern mentioned by Walker is a section making it illegal to beg in a "public place, street, wharf, courtyard or passage." Walker said a federal judge in Arkansas, earlier this year, blocked a similar statute from being enforced on the grounds that it violated the defendant's First Amendment rights.
Francis said he is looking to pass a new law concerning loitering because it has been 50 years since the issue has been addressed.
V.I. Police Commissioner Delroy Richards commended Francis for his effort to strengthen the loitering law. He said the department has tried to figure out how to enforce it for the last 20 years. Francis said when he tried to enforce it during his time in the police department, the cases were thrown out.
Walker also said the Department of Justice had concerns how a proposed amendment to the Criminal Street Gang Prevention Act, by Sen. Samuel Sanes, was written. The act would establish a Crime and Gang Prevention Fund. He said it needs to be written so it does not infringe on a citizen's freedom of association because that is a First Amendment right.
Deputy Education Superintendent Racquel Berry-Benjamin testified for her department, saying that though gang activity has appeared to be decreasing in the schools, it was still a problem.
Commissioner Richards also testified that gangs were a problem in the territory. However, he added they were becoming more sophisticated, with different levels of authority. Now he uses the term "networks" of organized crime instead of "gangs."
Sanes said this was the third time that his anti-gang bill was heard. The committee voted this time to forward it with a favorable recommendation to the Rules and Judiciary Committee.
The senators voted to hold the bill changing the loitering law in their committee for further consideration. Also held in committee, after discussion Friday morning, was a bill that would mandate surveillance cameras be placed around the territory at traffic signals.
Commissioner Richards said he in was in favor of the cameras to help the police department in solving and preventing major crimes but not in using them to monitor drivers who might run a red light.
Sen. Brian A. Smith chaired the committee meeting.