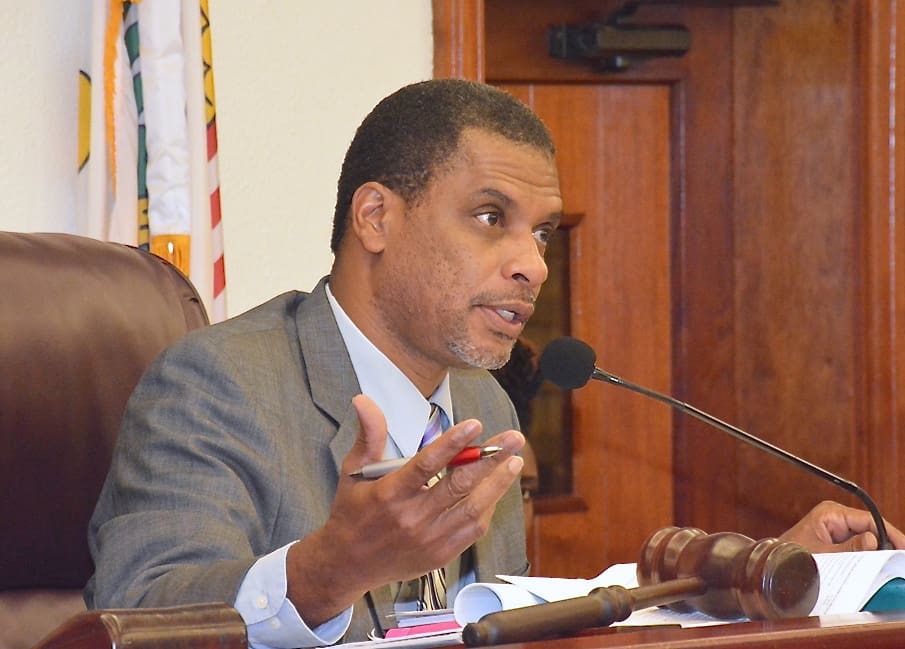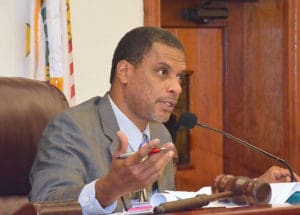 Citing uncertainty over revenues and expenses, the Senate has decided to punt on any more consideration of the FY 2018 budget, deferring to V.I. law that sets appropriations at the previous year's levels if no budget is approved.
In good news that demonstrates that uncertainty, the V.I. Internal Revenue Bureau's monthly reports since last year's double hurricane disaster show much smaller revenue losses than the V.I. budget office projected in December.
V.I. Senate Finance Committee Chairman Kurt Vialet issued a statement Tuesday announcing the decision, saying it sprang from communication between Vialet, Legislature Post Auditor Jose George and Gov. Kenneth Mapp's financial team.
While the Finance Department, Office of Management and Budget and the Internal Revenue Bureau have put a lot of resources into revenue projections, the "effort has proven to be extremely challenging due to the fluctuations in revenue streams affected by unemployment, mass exodus of residents, reduction in hotel rooms and the influx of significant federal spending within the territory," Vialet said in the statement.
Automatically leaving the FY 2018 budget at FY 2017 levels "will allow us to continue monitoring revenues while focusing our attention on mandates as spelled out in the "Bipartisan Budget Act of 2018" and preparing for the Fiscal Year 2019 budget cycle which is feverishly upon us," Vialet said.
Vialet said he, "in conjunction with the Senate Majority," came to a consensus on Feb. 16 to continue at FY 2017 appropriation levels. How the Legislature made a decision without holding a hearing or a public vote was unstated. Vialet could not be reached by phone for comment because he was attending a committee hearing on St. Thomas. But if the Legislature took no action, the law specifies the previous year's appropriation levels kick in automatically, reaching the same result that Vialet announced Tuesday.
While appropriation levels are the same as last year, the multi-million-dollar question is what revenues are available to pay those appropriations.
When the Legislature approved the FY 2017 budget in September 2016, the appropriation levels assumed the government would borrow $110 million to help bridge a structural deficit. But in January of 2017, lenders balked, causing the administration to cut allocations below appropriation levels.
Mapp's FY 2018 budget proposal assumed more cuts too.
Then the storms hit in September.
In November, then Budget Director Nellon Bowry told senators that initial projections show an estimated revenue loss of $423.6 million, combined with storm-related spending increases of $29.5 million, opening up a $453.6 million shortfall for FY 2018. That's more than a third of all V.I.government revenues from all sources, including federal funding. It is more than half of local funds in the V.I. government's General Fund, used to pay nearly all government employee salaries and most agency expenses.
At the time, the administration planned to offset that gap with $250 million in revenue assistance from new borrowing through a federal Community Disaster Loan, leaving a $203 million shortfall.
Since then, the federal government balked at the loan amounts, questioning the ability of the territory to pay. It instead approved $85 million in total so far, with $65 million for the budget. The administration plans to try to give the federal government first lien status for V.I. rum funds, in hopes of getting the federal government to release more funds.
But amid all that bad news, there seems to be some very good news: IRB's official revenue figures show a much smaller decline than initially projected.
In fact, if IRB's monthly revenue postings are accurate, revenue collections so far for FY 2018 are not far off from the same period last year. Adding up total revenues collected for October 2017 through January 2018 come to $187.45 million, a surprisingly small $3 million drop from $190.56 million over the same period last year, given the fact that most of the territory was in the dark for months and most businesses were shut for many weeks or months.
IRB's figures show hotel taxes cut nearly in half, from $6.7 million for the same four-month period last year, down to $3.8 million this year. Gross Receipts tax revenues dropped $13.3 million for the four-month span. But individual income tax revenues increased $7.5 million and corporate income tax receipts, fuel tax receipts and highway user tax receipts all were higher over the four post-storm months than over the same period last year, according to IRB's published revenue data.
In several recent press conferences, Mapp has alluded to the impact of recovery efforts, direct federal spending, spending on construction, paid through insurance settlements and other new spending, in juicing the economy and tax receipts.
Unless much more revenue comes in than currently, the territory still will face a shortfall of many tens of millions of dollars. And structural deficits remain, leading outside analysts like Moody's Investor Service to speculate the territory is "highly likely" to be unable to make debt payments without restructuring. The government's pension crisis continues to tick toward an explosion in the near future.
But for today, IRB's figures say the USVI's fiscal situation is dramatically improved over what it looked like just a few months ago.