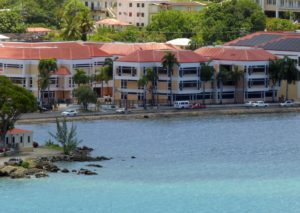 At a consent decree hearing in District Court Friday, V.I. Bureau of Corrections officials described the harrowing circumstances faced by staff at St. Thomas's jail in the days after Hurricane Irma.
Judge Curtis Gomez commended staff at the Criminal Justice Complex for ensuring inmate safety during and after September's hurricanes. But he also told Corrections not to let progress towards compliance with the jail-related consent decree stall due to the storms.
In 2013, the V.I. government entered a Settlement Agreement with the American Civil Liberties Union to improve conditions at the CJC.
Corrections officials are required to give the court quarterly updates about the bureau's progress. Friday marked the first compliance hearing since 2017's hurricanes.
BOC Assistant Warden Kelvin Williams told the court that plans set prior to the storms quickly fell apart when Hurricane Irma struck St. Thomas. Guards who were supposed to be relieved every 12 hours stayed on the job for two days.
No inmates were hurt as the storm passed, Williams said, but three had to be taken to the emergency room at Schneider Regional Medical Center, including one with asthma.
Meals could not be served due to of a faulty generator, so Corrections officials went to the Army for emergency rations.
Two days after the storm, a fire broke out in a dormitory, filling the jail with smoke. Log entries said it took half an hour to evacuate inmates from the affected area.
Three days later, still facing a manpower shortage, a guard on duty called police with a request to beef up security. Eventually, soldiers from the National Guard responded.
The keys to one cluster of cells could not be found. Authorities were forced to smash the glass insert to the door in order to gain access.
Four days later, inmates at the St. Thomas jail were moved out.
According to recommendations in a CJC security report submitted to court in April 2017, 58 corrections officers were needed to fully staff the jail. At the time of Hurricane Irma, on Sept. 6, there were 36 officers and five trainees.
During his testimony Friday, BOC Director Rick Mullgrav noted that one jail guard was killed during Hurricane Irma, at his home. Under questioning by Assistant Attorney General Carol Thomas-Jacobs, Mullgrav added that another prison guard left for medical reasons. Another retired.
ACLU Attorney Eric Baliban asked Mullgrav for details about the jail's disaster plan.
There was no written plan, Mullgrav said. The one action taken before the storms was to move inmates held at the CJC annex in Sub Base.
"Did you anticipate the generator going out?" Baliban asked.
Mullgrav said no. Baliban pointed out that security reports noted the jail's generator hadn't worked properly in three years.
An emergency generator has been in place in the interim. Gomez asked when the problem will be fixed.
Replacing faulty equipment will not be enough, he said. Because the generator is located in the basement of the Alexander A. Farrelly Justice Center, fumes spread through the jail once it's fired up.
BOC Chief Investigator Jimmy Warren Jr. also testified at Friday's hearing. Gomez and Baliban asked him for details about a knife attack between inmates in December in which the victim sustained wounds to the head, face and ears.
Warren was also asked for details about another fire that broke out in November, which was traced to an inmate with a history of violence.
A surveillance recording of the knife assault showed that the assailant was able to pass through a door that was supposed to be locked and enter an area where the victim stood, waiting to meet a visitor.
Both incidents involved the use of contraband — a utility knife in one case, a cigarette lighter in the other.
Warren said the November fire has not been investigated yet. Neither has the assault.
"I have not started that investigation yet, sir," he said.
But Williams said the BOC has placed a new emphasis on eradicating contraband since the hurricanes. Every day, one of the cell clusters at CJC is subject to a shakedown, he said.
Homemade knives, cigarette lighters, cell phones and "a green leafy substance" believed to be marijuana were noted in a log book written and dated by jail supervisors
He added that the guard who was present when the knife assailant slipped through the unlocked door was brought up on charges.
Since then, Mullgrav said, guards have been paying more attention to doors they are responsible for. Maintenance workers were called to check all security doors, and hardware was ordered to make sure they close properly.
Gomez called the creation and maintenance of incident logs a notable improvement in CJC operations, but raised two areas he considered short of compliance.
After a year and a half, CJC still had no procedure to deal with suicidal inmates. Gomez also wanted to see a liaison appointed to make sure that people whose input is needed to sign off on compliance steps are adhering to deadlines.
"It cannot be overstated that there were immense challenges that had to be overcome [after the hurricanes]," Gomez said Friday. "The CJC staff should be commended for the lengths they took to ensure inmate's safety."
He added, however, that delays in meeting quarterly compliance goals will not be allowed.
"The hurricane cannot become, 'the dog that ate my homework," he said.