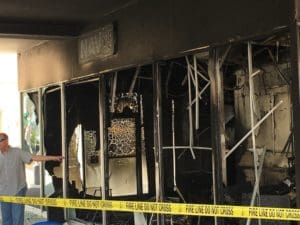 A 26-year old man told a federal judge Monday he was the person who set fire to a Navy recruiting office and two other federal facilities last year St. Thomas.
Spencer Wayne Allen now faces sentencing June 28.
Allen admitted guilt during an omnibus hearing before District Court Judge Curtis Gomez.
He was arrested Feb. 28, 2017, shortly after leaving the scene of the third fire.
Charges include one count of arson and two counts of vandalism. The Navy office was almost totally destroyed. Authorities estimated damages at $ 45,000 for the three locations.
Prosecutors with the U.S. Attorney's Office told Gomez if the case were to go to trial they could prove Allen was the man who doused the planters in front of the de Lugo building with gasoline and set it ablaze. Assistant U.S. Attorney Meredith Edwards said the defendant was also caught in the act on surveillance camera and was seen driving away from the Coast Guard station by firefighters responding to emergency calls by area residents.
The federal building and the Coast Guard station are located two blocks away from each other along Veteran's Drive in Charlotte Amalie.
Edwards also told the court Monday that prosecutors could prove Allen drove the truck belonging to his employer to Nisky Center, where he used a red container to douse the Navy recruiting center with gasoline shortly before a third fire broke out there.
When he was apprehended by an off duty police officer moments later, the defendant was found with three lighters in his pocket, face and forearms covered with soot.
The case against the Texas man was temporarily suspended last year when questions arose about his mental health. U.S. Magistrate Ruth Miller ordered him to be sent off island for a psychiatric evaluation.
The defendant was initially declared unfit to stand trial but was later reevaluated and cleared for trial in December. He was returned to the territory last month.
Although it began as a hearing on a motion to suppress evidence, federal public defender Kia Sears told Gomez Monday her client was ready to admit guilt in the case. Allen stood before the judge, but at first had trouble answering questions.
"Are you admitting guilt in this matter because you are in fact guilty?" Gomez said.
"Not guilty," Allen said. "I'm taking this plea because I'm trying to get away from the terroristic activity that's taking place in this courtroom."
With that said, the judge moved towards a conclusion. "There is no plea to accept. This case can proceed to trial."
Then he left the bench. There was a break in the hearing and Allen was escorted out of the courtroom.
After lawyers for Allen and the government were summoned into the judge's chambers, proceedings resumed.
Allen now faces a maximum sentence of 40 years in prison for arson, 10 years apiece on the vandalism pleas. The court could also impose fines of as much as $250,000 and three years of supervised release.
The Federal Bureau of Investigation, the Bureau of Alcohol, Tobacco, Firearms and Explosives and the Immigrations and Customs Enforcement agencies uncovered details in the case. They were assisted locally by the Virgin Islands Police Department, the V.I. Fire Service Arson Investigations Unit and Port Authority Police.