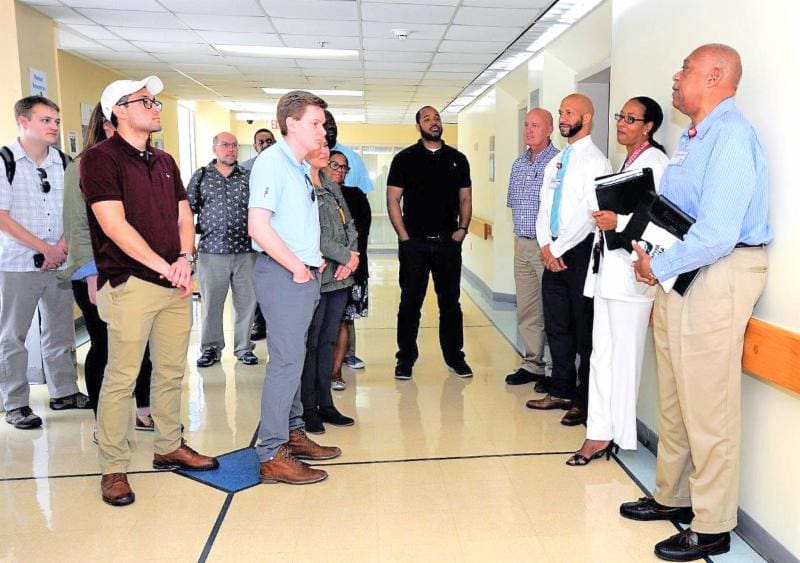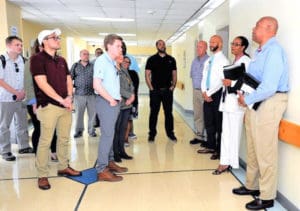 A visiting delegation of Congressional staffers visited the U.S. Virgin Islands to gather information about the territory's ongoing recovery effort, meeting with members of Gov. Kenneth E. Mapp's cabinet, according to a news release issued Wednesday by Government House.
Visiting St. Thomas for the briefing were representatives from the Homeland Security and Governmental Affairs Committee; the Committee for Economic Development; the Subcommittee on Economic Development, Public Buildings, and Emergency Management; the Subcommittee on Federal Spending Oversight and Emergency Management; the Energy and Commerce Committee; the Energy and Natural Resources Committee; the Transportation and Infrastructure Committee; and the Emergency Preparedness, Response and Communications Subcommittee.
They were met by local government representatives, including Commissioner of Public Works Nelson Petty, Jr., Commissioner of Health Dr. Michele Davis, Commissioner of Planning and Natural Resources Dawn Henry, and Neil Vanterpool, director of Transmission and Distribution for the Virgin Islands Water and Power Authority.
The group discussed issues that included repairs to such infrastructure as roads and traffic lights; the need for resilient, permanent medical facilities for the territory; removal of sunken and damaged vessels; resources needed to repair roofs and housing damaged by the hurricanes, including historic structures; and restoration and hardening of the territory's power distribution systems.
"We continue to be grateful to our federal family for their unwavering support in the wake of the devastation caused by Hurricanes Irma and Maria, and we thank the delegation for visiting the territory to meet with our local leaders," Mapp said. "We are confident that with continued support, we will be able to build a stronger, more resilient U.S. Virgin Islands."
After the meeting, representatives from the Federal Emergency Management Agency accompanied the delegation on a tour of damaged areas in St. Thomas, including the Schneider Regional Medical Center.