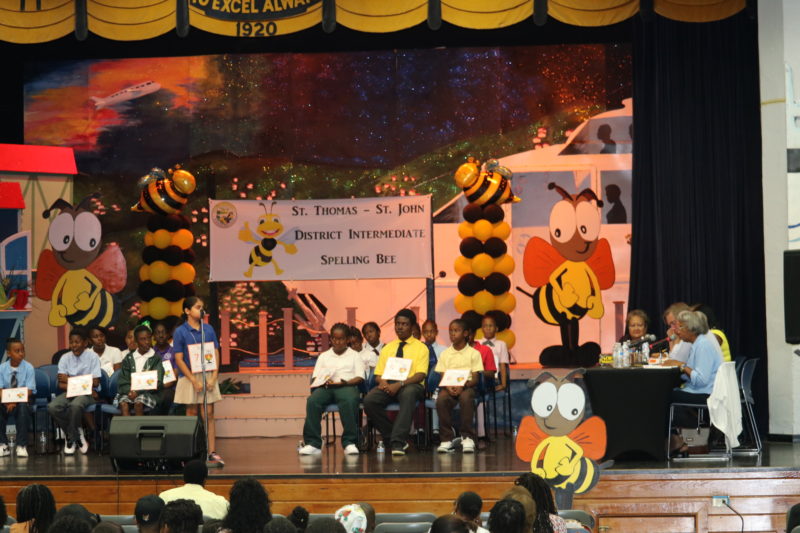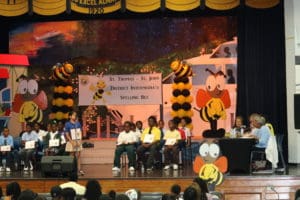 Antilles School 6th grader Priya Giyanani won the 2018 St. Thomas-St. John (STTJ) District Intermediate Spelling Bee on Tuesday, Feb. 27. After battling neck-and-neck for a grueling eight rounds, Giyanani edged Bertha C. Boschulte Middle School 8th grader V'Andre Rochester by correctly spelling "kuruma" after Rochester misspelled "tarragon."
Addelita Cancryn 8th grader Maat Osuji opened the annual literacy event with songs, performing the "Star-Spangled Banner," "Lift Every Voice and Sing" and "The Virgin Island March."
Insular Superintendent Dionne Wells-Hedrington welcomed the audience. "In light of what the territory has experienced, these 18 in-school Spelling Bee champions have truly proven that they're committed, hard workers and know what it feels like to achieve a goal," she said.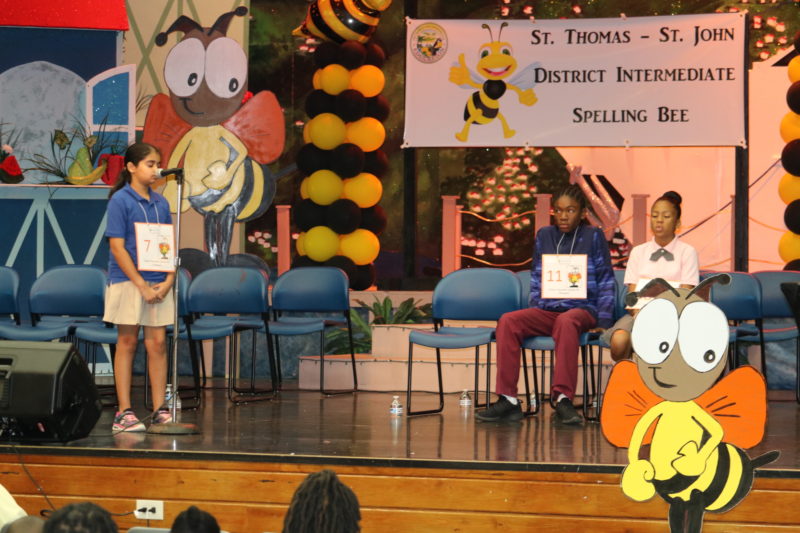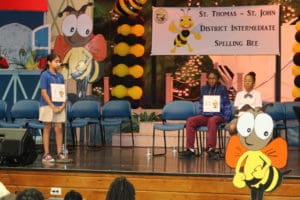 STTJ District Elementary Programs Coordinator and Spelling Bee Coordinator Kalamis Maduro followed with introductions of spelling officials. The Virgin Islands Daily News Executive Editor Gerry Yandel and retired educator Mary Harley served as pronouncers. Shaking off their nervousness, the in-school winners, dubbed champion spellers, took to the center microphone and introduced themselves to the audience, pronouncers, judges and their peers.
After the formal reading of the rules and a warm-up round, the competition got underway. The tough competitors, from public, private and parochial schools battled for over an hour and exhibited literacy skills learned through rigorous training. All Saints' competitor DaJanelle Joseph notably traced letters in her hands as to visualize words. V'Andre Rochester showcased his knowledge of vocabulary by frequently asking judges for the etymology of words and subsequently spelling them correctly.
Participants correctly spelled words such as "peroxide," "spitz," "azalea," "layette," "spaghetti," "isobar" and "linoleum." The champion spellers did not hesitate to ask pronouncers to use words in sentences, request the alternate pronouncer or even repeat words several times.
Third runner-up Arielis Jimenez of Gladys Abraham Elementary School incorrectly spelled "tatami"—a type of mat used as a flooring material in traditional Japanese-style rooms—which led to the eight-round battle for the championship between Rochester and Giyanani.
A soft-spoken Giyanani expressed her happiness in securing the championship and spoke about her challenges preparing for the Bee. "I'm feeling really good. I was really nervous up there. I practiced for about three hours each day, but I always struggled with pronunciation. I'm getting better and I'm definitely looking forward to the territorial competition."
All Spelling Bee participants received student dictionaries and tote bags from Houghton Mifflin Harcourt as well as trophies, certificates, Bee pencils and erasers from the STTJ District. The top six spellers also received board games from the district and backpacks filled with school supplies from United Way VI. United Way VI will also gift the top six spellers Kindle Fire tablets with an eGift card credit of varying amounts.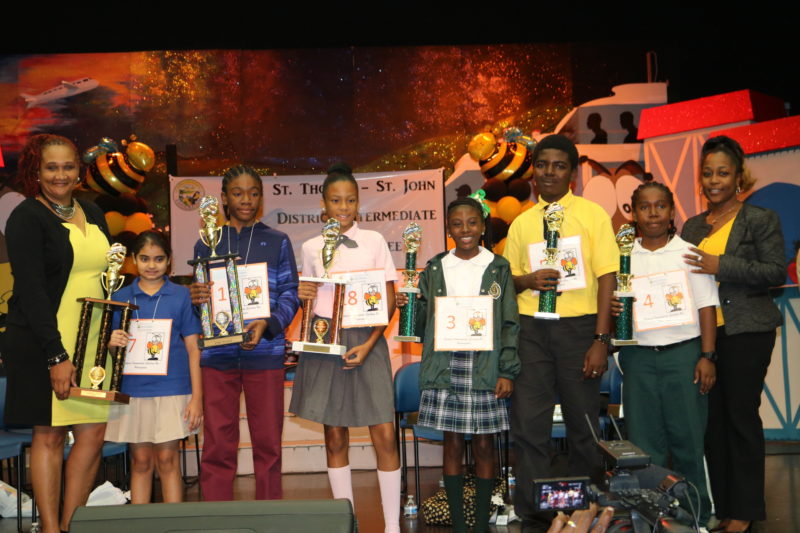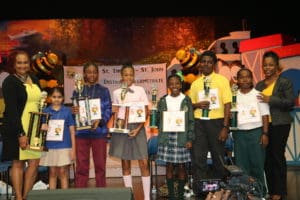 Senators Janette Millin-Young, Tregenza Roach, Dwayne DeGraff, Janelle Sarauw and a representative from Sen. Jean Forde's office attended the event.
The Territorial Spelling Bee, which will feature the top six spellers from both the St. Croix and St. Thomas-St. John districts, will take place on at 10 a.m. on March 27 in the Charlotte Amalie High School's Ruth E. Thomas Auditorium.
The top six finalists that will compete in the Territorial Bee from the St. Thomas-St. John District are Priya Giyanani of Antilles School; V'Andre Rochester of Bertha C. Boschulte Middle School; Arielis Jimenez of Gladys Abraham Elementary School; DaJanelle Joseph of All Saints Cathedral School; Kwanye' Jarvis of Julius E. Sprauve School; and V'Manie Rochester of Joseph Sibilly Elementary School.