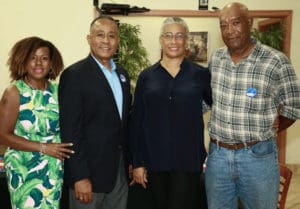 Former Finance Commissioner and bank executive Angel Dawson introduced St. Croix attorney Marise James as his running mate Saturday as he announced his candidacy for governor at the St. Croix Democratic Party District Committee.
Dawson served in Gov. John deJongh Jr.'s administration both as finance commissioner and as head of the Public Finance Authority. He also has been a senior vice president and commercial business manager of FirstBank's Eastern Caribbean Region.
Born on St. Thomas, he grew up in the then-newly constructed Donoe Housing Community and attended public school before going to college.
Marise James recently retired as a major from the V.I. National Guard, where she served as staff judge advocate. She also has been a teacher.
Dawson outlined an agenda focused on getting stalled public works projects moving and working with Congress and the territory's business and trade partners to grow the economy.
"The state of the Virgin Islands economy is not only correlated with the fiscal decline of the V.I. Government", but the cause of it, Dawson said in a campaign statement.
His outline for returning the U.S. Virgin Islands to economic prosperity includes better investor relationships, capital projects, workforce development, tourism, trade, agriculture, and technology.
"As a private citizen it maddens me to see how much this territory has regressed in just three years," Dawson said.
He said he should be the ninth elected Governor of the Virgin Islands, given his "more than 30 years of successful experience in the public sector and the private sector."
Dawson said he thought James' father, "Doc" James, "would be proud to know that his daughter, is poised to become the first female lieutenant governor of the U.S. Virgin Islands."