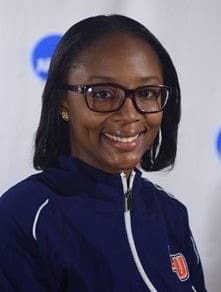 Lincoln University women's track and field athlete Krystahl Gordon, who is from Fredriksted, V.I. and attended St. Croix Educational Complex, has been named the Eastern College Athletic Conference (ECAC) Outdoor Track & Field Rookie of the Week for her performance during the week ending April 1.
This week's award is her second ECAC Outdoor Track and Field honor in the past three weeks. During the opening week of the outdoor season, the freshman jumper was named ECAC Division II Field Athlete of the Week. Combined with her weekly awards from the indoor season, Gordon has now earned a total of four ECAC honors in 2017-18 (three rookie awards, one field athlete award).
She recorded a personal best mark of 5.38 meters en route to her fourth-place finish in the long jump competition at the Collegeville Classic hosted by Ursinus College. Earlier in the day she placed second overall (first amongst collegiate jumpers) with a 10.93-meter jump in the triple jump. For the day, she accounted for 15 points towards the Lions' 5th place team total of 61.
The women's team will return to action on Wednesday, April 11, when they will compete at the Gwynedd-Mercy Twilight Meet.
About the ECAC
Established in 1938, the Eastern College Athletic Conference (ECAC) is the nation's largest conference, ranging in location from Maine to Georgia, and westerly to Missouri. The ECAC hosts numerous championships in men's and women's sports across Divisions I, II and III, offering opportunities for thousands of student-athletes. For more information, visit www.ecacsports.com.