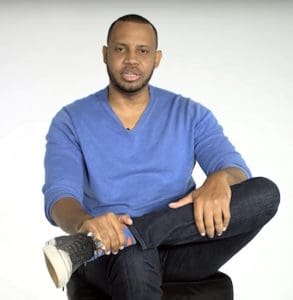 Peter Bailey, an alumnus of Ivanna Eudora Kean High School, will tape his "NiteCap Live" show at 11 a.m., Tuesday, April 24, at Charlotte Amalie High School. It will feature guest speakers Dr. Frank Odlum, the chief of surgery at Schneider Regional Medical Center, and Pam Webster, a prominent attorney and Anguilla Assembly opposition leader. The event is titled "Connecting Our Youth to Their Dreams."
Peter Bailey has invited juniors and seniors from Virgin Islands high schools to be part of the audience and participate in an interactive discussion about achieving and maintaining success. This free and open to the public. It will be taped as part of the "NiteCap Live" series.
Several local artists are also slated to perform. A nationally-recognized, Miami-based author and journalist, he was recently awarded a grant from the Miami Foundation to continue the series of programs in V.I. schools with the Community Foundation of the Virgin Islands (CFVI) serving as the grant's fiscal sponsor.
The taping will be his first in the territory since last May, and it is being done in partnership with the V.I. Department of Education and WTJX.
"Our kids are very vulnerable right now. They need an outlet that offers inspiration as a means to begin the long and excruciating road to recover," Bailey said. "These storms did more than destroy our homes. They threatened to kill our spirits as well. We can't let that happen."
The "NightCap" program, which is filmed on location, has featured notable figures such as billionaire developer Don Peebles, Mike Tyson, 50 Cent, Janelle Monae, Chad Johnson, and Fantasia. Educators on the islands are pleased that "NiteCap" is returning.
"Peter Bailey provides a medium that gives a creditable voice and venue to the young people we serve in the Virgin Islands. 'NiteCap' is meaningful and relevant," said Education Commissioner Sharon McCullom.
"The program brings contemporary issues to the forefront. In addition to giving a forum to newsmakers [who] impact the younger generation, we are attempting to bring into the fold to impact positive change concerning today's pressing issues," she said.
Bailey was spending time with family on his native St. Thomas when hurricanes Irma and Maria ravaged the islands, forcing him and his family to flee outside as the storms tore off his family's roof. He has become a national figure for his New York Times Op-ed piece, which he wrote while building a makeshift roof.
Subsequent interviews that aired on CBS and other media outlets criticizing the U.S. government's handling of the islands' recovery went viral on social media.
For more information, visit www.iampeterbailey.com or email [email protected]