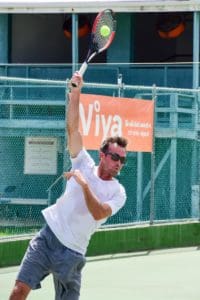 The saying "home court advantage" certainly rang true for St. Thomas' Alex Poe, winner of the highly-competitive Men's Open Singles at the Viya VI Open Tennis Tournament. In fact, he started playing tennis at age 7 at the St. Thomas Yacht Club, which hosted this tournament. He was taught by George Newton, a well-respected Virgin Islands' tennis coach.
Yet, the marathon match was no cake walk for the St. Thomas player. In fact, it came down to the last volley to decide if Poe or Austin, a Texas-based opponent Noah Harness, was the winner. Harness has been visiting on-island while working for the Federal Emergency Management Agency (FEMA) in the wake of last year's hurricanes.
"My goal was to stay strong and keep my energy up until the end of play," said Poe, who defeated Harness (3-6, 6-4, 7-5). "The match had its difficulties and that took a lot of mental energy. But, I kept plugging away and in the end the win happened pretty quick when he missed the last volley."
Sixty-five players from all three U.S. Virgin Islands and U.S. mainland states such as Texas, Colorado and Illinois, competed in the April 12-15 tournament, nicknamed the 'Wimbledon of the Caribbean' for its top-notch competition. Players included a strong contingent of open and B division participants in 15 divisions.
In Women's Open Singles, the match ended with a tie-breaker (6-3, 0-6, 10-6), won by St. Thomas' Denise Holmberg over fellow competitor and islander Kerri Clifford.
"My opponent lost her cool after the first match, and I was able to split sets. So, I got lucky," said Holmberg.
Men's Open Doubles winners were St. Thomas' George Lewis and Julio Martinez over Matthew Mahaffey and June Horii (6-1, 6-2). "I had an injury from Thursday, so we played the percentage and made it (the win) quick."
St. Thomas' Elsbeth Rowaan and Kerri Clifford beat Holmberg and Joyce Bailey (6-2, 6-3) in Women's Open Double's round robin play.
"We've played together for years and communicate well with each other on the court," said Clifford.
Mixed Doubles offered edge-of-the-seat action for spectators as St. Thomas' Dan Nicolosi and sister Christine Rosenkrantz, from Illinois, kept St. Thomas players George Lewis and Osa Notting in play that extended to three sets. Ultimately, Nicolosi and Rosenkrantz triumphed (2-6, 7-6, 6-2).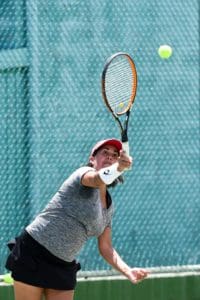 "Controlling the net, I felt very in control," said Nicolosi about the secret to the team's success. "We had ups and downs, and my sister carried me through the downs. She was happy to be here since it snowed last Monday in Chicago where she lives."
St. Thomas Fernando Acuna championed the Men's 3.5 and Under Singles over St. Croix's Bob Guilford (6-2, 7-5).
"I kept telling myself, have patience and wait for the ball. That's what did it," said Acuna.
In the Women's 35 and Under Singles, St. John's Sandra Miller triumphed over St. Thomas' Madel Villegas (6-3, 6-4).
"It was perseverance and watching the ball," said Miller, who moved to the Virgin Islands in the last few years from Cape Cod, Mass., and was happy to find an active tennis community. "Since it was windy, I tried not to overpower but to get the ball back every time. It was close, and it was so much fun."
The St. Thomas team of Bill Newbold and Rick Hunter bested St. Croix's Warren Mosler and Bob Guilford (6-1, 6-2) in the Men's 55-plus Doubles.
"The key for us is that it was such a relaxed tournament. It made it enjoyable. When you have fun, you play better," said Newbold.
Tournament co-chair Cate Morris and tennis partner Cindy Asfour won the Women's B Doubles over Lisa Whitsell and Caryn Conaway (7-5, 6-4) over Lisa Whitsell and Caryn Conaway.
"We're good friends on and off the court so we understand each other," said Morris. "That communication helps us know where to move on the court."
Junior divisions were included this year for the first time in the 12-year history of the tournament.
In the Boys 16 and Under, play cut short due to injury didn't detract from the quality of tennis in the early part of the match. In the end, St. Thomas Xaver Richardson prevailed (6-2, 4-3) over Toovin Phillip.
"It was good competition. I tried to pressure his backhand, but it didn't work," said Richardson.
"I felt better after falling in a match yesterday and really wanted to come back and play the final," said Phillip.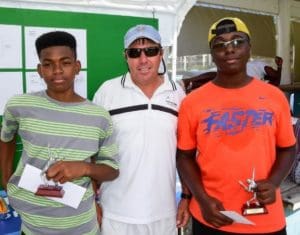 Leah Marie Smith championed the Girls 16 and Under over Lana Estrill (6-0, 6-0), and the Girls 14 and Under division over Tania Weyland (6-0, 6-1).
In Boys 12 and Under, it was St. Thomas Rohan Nelthropp who beat Christian Rosenberg (7-6, 6-2).
Finally, in the Girls 10 and Under, Anjolie Winner won over Aliya Asfour (8-1), while Aquani Williams triumphed in the round-robin Boys 10 and Under.
Over $5,000 in prize money was awarded in addition to trophies.
"This is my first Viya VI Open Tennis Tournament since I arrived on-island right after the hurricane, but it was truly awesome to see everybody come together after such difficulties in the storm's aftermath," said Chris Lorenz, tournament co-director and tennis pro at the St. Thomas Yacht Club. "I never imagined with the way the courts looked a few weeks ago that we'd have this level of participation and enthusiasm."
The Viya VI Open Tennis Tournament is sponsored by Viya, the U.S. Virgin Islands Department of Tourism and the Boolchand Group (Boolchand's, Pandora, Crocs).
For more information, e-mail: [email protected]