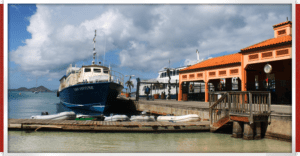 The members of the 32nd Legislature invite the public to a Perma-Plaque Ceremony at 10 a.m. on Friday, April 20, honoring Rodney "Chief" Varlack for his outstanding public service and the 250th Anniversary of Cruz Bay at the Cleone H. Creque Legislative Conference Room at the St. John Legislature Building.
A resolution recognizes Varlack for his visionary entrepreneurship over the decades, which has led to the establishment of businesses to include inter-island transport: safari taxi buses, island tours, school buses, wrecker and towing services, welding, and sea and mail transport.
Act. No. 7942 commemorates the 250th anniversary of the founding of the town of Cruz Bay, celebrates the longevity of the town, and honors the distinct African-Caribbean traditions and culture that define St. John's identity.