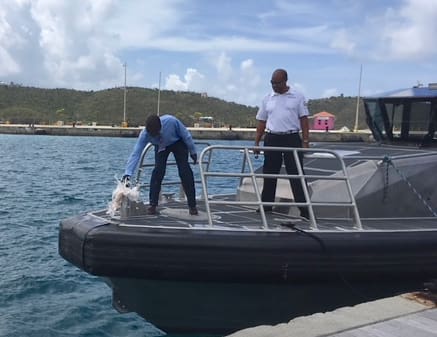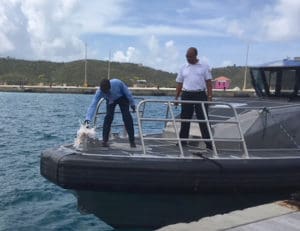 With a bottle of bubbly smashing across the bow, the $1.1 million pilot boat George Freeman joined the V.I. Government's growling fleet of working boats.
The V.I. Port Authority christened a new $1.1 million pilot boat in a ceremony Tuesday at the Excursion Dock of the Austin "Babe" Monsanto Marine Terminal in Crown Bay on St. Thomas.
The Rev. Errol L. Connor of the Nisky Morvian Church did the honors, breaking a bottle over the bow of the new working boat. The small crowd that gathered at the dock included Ena Freeman, widow of the late George Elwin Freeman Sr. for whom the boat is named.
Freeman was a coxswain with the Port Authority's marine department in St. Thomas for 33 years. He joined the marine department of the V.I. Airport and Industrial Development Agency in 1967 when it managed the territory's air and seaports. Two years later the Legislature created the V.I. Port authority, and Freeman stayed with the agency. He was a seaman until his death in July 2000.
He was survived by eight children, one of whom followed in his footsteps in 1988, also becoming a coxswain with the VIPA's marine department.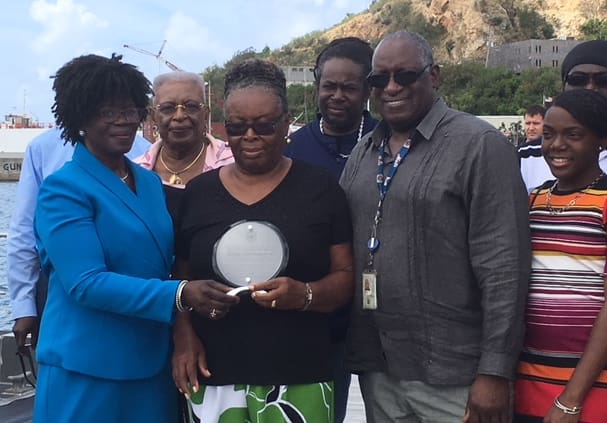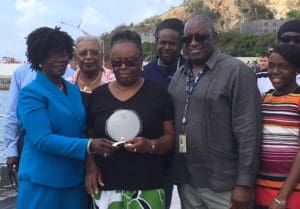 The new boat is the fourth tug-style boat in the V.I. Government's fleet of marine vessels. The 40-foot, state-of-the-art Freeman has four 603 horsepower engines and an 8.3 liter turbo charger, meaning it is able to assist cruise ships, cargo boats and any other large vessels wishing to enter the Charlotte Amalie harbor.
Freeman will get thrown right into the world of a working harbor. According to Monifa Brathwaite, VIPA's public information officer, the new boat will be the sole pilot boat in the Charlotte Amalie Harbor for the next few months, while St. Thomas' other pilot boat, the Winston Parris, undergoes repairs.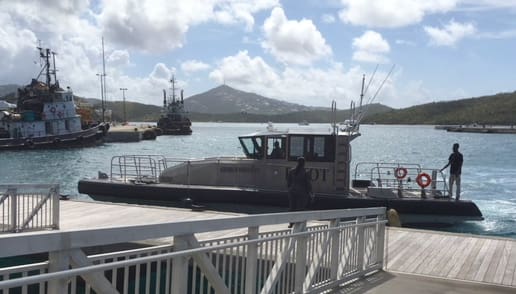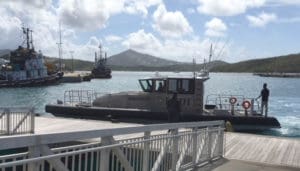 The George Freeman is the second boat to join the V.I. Port Authority's fleet of vessels within the last few months. VIPA also benefited recently from a $426,000 grant from the U.S. Department of Homeland Security that paid for a brand new security vessel for the St. Thomas harbor.
Brathwaite said the agency plans to have four boats eventually operating in the territory, two the Winston Parris and the George Freeman, stationed on St. Thomas; the Larry Finch and Harry MaGras providing boat services on St Croix.
Among those joining Freeman's widow, Ena, at the ceremony were VIPA Executive Director David W. Mapp, Sr. and VIPA Governing Board chairwoman Laurel Hewitt-Sewer.
Editor's Note: Comments at the ceremony suggested the Magras was now stationed on St. Croix. Subsequent information provided to the Source indicate the Magras is not currently in service on St. Croix.