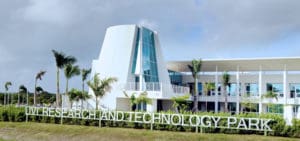 UVI Students, Faculty & Staff to Showcase Findings at Research Day Community Invited to Learn About Possible Future Careers The University of the Virgin Islands will host the 7th Annual Research Day from 9 a.m. to 3 p.m. on Friday, April 20, in the Great Hall on the Albert A. Sheen Campus on St. Croix, and at the Sports and Fitness Center on the St. Thomas Campus. Research Day provides UVI students, faculty and staff the opportunity to showcase their research, which highlights diverse topics that impact the community.
"One of the goals of Research Day is to share careers with students that they may not have known about. Sometimes the subject that you love can become the future career you didn't know was possible," said Dr. Frank Mills, vice provost for Research and Public Service. "It is truly exciting to see that at UVI our researchers can share information that is truly valuable to the public and the business community. I invite the entire community to visit our campuses."
UVI students and faculty will be on hand with the results of their findings. Some research that will be featured include:
Hackers Roam the Cyber World
It takes Resilience: Pests Rise after Hurricanes Maria and Irma
Humanitarian Efforts During Hurricanes Irma and Maria: Saving Lives and Restoring Normalcy
How Safe is Your Drinking Water? Integrating Research into the General Chemistry Curriculum
Drones as a GIS Tool for Surveillance After Disasters
How Affordable was Rent in the U.S. Virgin Islands Prior to the 2017 Hurricanes?
Prevalence of delinquency in St Thomas (USVI)
Creating a Closed Cybersecurity Network: Simulated Malware Attacks and Forensics Analysis
Holistic Green Economics Concept for Global Energy, Water, and Food Security
Coaching Styles Utilized by Coaches Have an Impact on a Player' Performance.
Impacts of Hurricanes Irma and Maria on coral restoration and associated fish diversity in St. Thomas, USVI
Is the Grass Greener for Virgin Islanders at Home or on the Mainland?
Improvement in Growth Performance of St Croix White Lambs
The Rise and Fall of King Sugar in St Croix
"Each year we perceive the growth of research efforts by faculty, staff and students alike," said Dr. Mills. "It is inspiring to witness the improvement in the level of research of our undergraduates and graduates on both campuses, as this is what was envisaged in our current strategic plan Pathways to Greatness."
For more information on UVI's Research, visit http://researchday.uvi.edu.
Danny Glover: Actor, Producer, Political Activist & Humanitarian to Speak at UVI's 2018 Commencement; Renowned Virgin Islanders to Receive Honorary Degrees Danny Glover, award-winning actor, producer, political activist, and humanitarian will be the keynote speaker at the University of the Virgin Islands 2018 commencement ceremonies. The ceremony will first take place on the St. Thomas Campus on May 17, 2018, then on the Albert A. Sheen Campus on St Croix on May 18. Both ceremonies will begin promptly at 1: 30 pm.
"Our graduating class and the entire community should be thrilled to have someone of Mr. Danny Glover's stature, talent and social commitment to join us for this special event," said UVI President David Hall.
Born in 1946, Glover's commanding presence on screen, stage, and television spans over 35 years, distinguishing him as one of the greatest actors of his time. Most recognized for his role in "Lethal Weapon" film series, "The Color Purple" (1985), "To Sleep with Anger" (1990)," Predator 2" (1990), and "Angels in the Outfield" (1994) among others, Glover has become a household name.
Glover won awards from the NAACP, Black Entertainment Television (BET) and Screen Actors Guild (SAG), Glover has also received several Emmy nominations for his work in such television hits as "Lonesome Dove."
Athniel C. (Addie) Ottley
Athniel C. 'Addie' Ottley was born on Nov. l9, 1941. As a teenager Ottley learned the ropes at WIVI of St. Croix operating on St. Thomas, via an FM link. He became an active participant in the broadcast business when Lee Carle, put him on the air with "Addie at Night."
Ottley built and operated his own ham radio station, KV4BW becoming the first teenager to be granted such a license in the Virgin Islands.
He returned to St. Thomas in 1965 and went to work at WSTA as assistant manager, until 1968 when he was promoted to manager. During this period, Ottley started his widely respected and much listened to "Morning Show."
Ottley launched his political career by successfully running for a seat in the Virgin Islands Legislature first in 1970 and again in 1972. In 1973, he was appointed Lieutenant Governor in the administration of the late Gov. Melvin H. Evans upon the resignation of then Lt. Governor David E. Maas.
Holland Redfield Holland Redfield has consistently said the difference between a statesman and a politician, is that a politician works for the next election and a statesman works for the next generation. This philosophy has guided him throughout his political career.
St. Croix has been his home for over 40 years and he is accepted as a Virgin Islander, although he was born in Syracuse, NY on April 10, 1943. He served as a republican senator in the VI Legislature for six terms and continues to be singled out by numerous Virgin Islanders as a government negotiator, political advisor, and economic development specialist. Most recently, the former senator has been the Radio Talk Show Host of "Straight Talk with Redfield" on 93.5 WVVI-FM.
Redfield has been an active part of the community since his arrival in St. Croix in 1969. As a realtor broker, he was owner and operator of Redfield and Associates, real estate investment and trust. Redfield earned the distinction of Realtor of the Year in 1978. He was recognized nationally and earned a reputation for helping first-time homebuyers purchase land with innovative financing plans that up until that time, had not been available to them.
More information is available in a news release on the Media Section of the UVI website – http://www.uvi.edu/
"Computing4Change" Competition to be Held in Dallas, Texas – Nov. 11 – 16 Are you an undergraduate student who wants not just to enhance your skillset, but also to create positive change in your community?
SIGHPC is launching a new competition for students from diverse disciplines and backgrounds who want to work collaboratively to:
Learn to apply data analysis and computational thinking to a social challenge
Experience the latest tools and techniques for exploring data through visualization
Expand skills in team-based problem solving
Learn how to communicate ideas more effectively to the general public
The next "Computing4Change" event will be held at the SC18 conference in Nov 11-16, 2018, in Dallas, Texas. SIGHPC will support 16 students to travel to SC18 for the competition.
Nominations open on April 9 and will close on May 21. There will be no extensions and winners will be announced in late June.
How It Works
To be eligible for this exciting program, you must:
Be currently enrolled in an undergraduate program at an accredited college/university
Be enrolled as an undergraduate at the time of the competition (November 2018)
Have a minimum overall GPA out of 2.5/4 (or equivalent)
Be able to participate in six webinars between July and November, to learn core skills and develop some experience with the tools you will have to input in the scheduling. Be able to attend the full competition in Dallas, Texas on Sunday morning through Wednesday evening Nov. 11-14, 2018.
Complete the online application form before the deadline.
Students from any undergraduate background are eligible, although some preference will be given to women, minorities, students from majors outside computer science, and students at the sophomore or junior level.
Participation in all program activities is required. Students will be assigned to teams to ensure a balance of backgrounds, and an advisor will be assigned to each team.
SIGHPC and SC18 will cover the costs of transportation, lodging, conference registration, and a meal allowance. All needed software will be provided. Questions? Check out the FAQs (frequently asked questions) for more information.
For more information contact Dr. Marc Boumedine in the College of Science and Mathematics -Computer Science at 693-1255 or by email: mboumed@uvi.edu or visit the http://www.sighpc.org/computing4change for further detail.
UVI Announces TEAS Testing Dates for April and May 2018 The University of the Virgin Islands (UVI) is pleased to announce testing dates for the TEAS exam. The Test of Essential Academic Skills (TEAS) is used as part of the admissions process by Nursing and Allied Health schools nationwide. UVI students who desire to enter the School of Nursing are required to sit for the TEAS exam.
The TEAS exam is a basic aptitude test designed to identify students who are likely to succeed in nursing school and have the ability to think like a nurse. It is a multiple-choice assessment of basic academic knowledge in Reading, Mathematics, Science, and English. The four sections are timed for a total of approximately four hours.
On St. Croix, testing will be administered in Room 139 of the Research and Extension Center, located on the Albert A. Sheen Campus. On St. Thomas, the testing site is located at the UVI-CELL Center on the St. Thomas Campus.
The TEAS testing schedule is as follows:
St. Thomas
10 a.m. – 2 p.m. on Monday, May 14
St. Croix:
Tuesday, April 17, 2018, 11 a.m. – 3 p.m.
Monday, April 23, 2018, 11 a.m. – 3 p.m.
Thursday, May 10, 2018, 11 a.m. – 3 p.m.
Tuesday, May 22, 2018
For testing fees or more information on the exam, contact the UVICELL Center at 693-1100 on St. Thomas or 692-4230 on St. Croix.
Students may also visit the UVICELL website at http://cell.uvi.edu/programs/teas-testing.aspx.
UVI Astronomy Day to be Held on April 21 UVI Physics faculty invite everyone to enjoy the beauty of space and astronomy on Saturday, April 21, for our April Astronomy Day.
The event will be held at the UVI Library on the St. Thomas Campus from noon to 5 p.m.
The event is free and visitors will be able to explore the universe in the UVI planetarium, observe the sun with our solar telescopes and participate in fun activities prepared by our Physics students.
For additional information, contact Dr. Antonio Cucchiarra by email: antonino.cucchiara@uvi.edu.
UVI Carnival Troupe is Accepting Applications/Registration Access your carnival application on the UVI website at http://carnival.uvi.edu and drop off your application at Student Activities to Leon Lafond or Student Affairs to Johnson Wispe.
Sign up today and hear all your favorite Carnival songs on the parade route with one of the best disc jockeys in the Virgin Islands, DJ Chubby.
There will be a deadline extension for a limited time so don't wait too late!
Register now and reserve your spot. The registration fee has been waived, so lock-in your costume with your $50 deposit today and let us know if you are interested in a more conservative option.
Applications are available for pickup at the Student Activities Center and the Student Affairs Office on the St. Thomas campus.
For more information, please call Jessica Taylor at 693-1006 or Student Activities at 693-1640.
UVI Community Invited to Annual Service Awards on April 17 and 19 The entire UVI community is invited to the annual Service Awards hosted by the Human Resources Department. The awards themed "We've Risen & We're Gaining Steam – Service Awards 2018," will be held at 2 p.m. on Tuesday, April 17, in the Cafeteria on the Albert A. Sheen Campus on St. Croix. On the St. Thomas Campus, the Service Awards will be held at 2 p.m. in the Sports and Fitness Center on Thursday, April 19.
Congratulate your favorite recipient using this direct link: Submit Remarks. The deadline is set for Friday, April 6. Nominations for our 2018 Employee of the Year are also accepted through Friday, April 6, 2018.
Use this link to submit your nomination for Employee of Year.
For more information, contact Shelly Anslyn-Jones at (340) 692-4280 or sanslyn@uvi.edu. Visit the Annual Service Awards page here.
The Great Mangrove Cleanup set for April 21 Starting at 9 a.m. on April 21, volunteers are needed for The Great Mangrove Cleanup. Volunteers will assist researchers and staff from the University of the Virgin Islands with cleaning two of the publicly owned cays within the St. Thomas East End Reserves. Anticipation finding more debris than usual during this beach cleanup. Pizza will be provided by Pizza Pi to volunteers.
For more information contact Howard Forbes at howard.forbes@live.uvi.edu or at 513-7203.
Youth Ocean Explorers Summer Program Registration is Now Open Applications for the four-week marine science-based Youth Ocean Explorers Summer Program are now available. Students in grades seven-12 are eligible to apply. Students in grades 11-12, undergraduate and graduate levels encouraged to apply to be a mentor.
Log on to http://vimas.uvi.edu and register today!
For additional information contact Howard Forbes Jr. at 693-1672 or send an e-mail to Howard.forbes@live.uvi.edu.