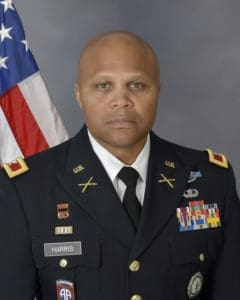 The adjutant general for the Virgin Islands, Brig. Gen. Deborah Y. Howell, has announced the selection of her new director of joint staff at the Joint Force Headquarters. Col. Shawn Harris came on board in April and replaces Col. Linda Cills, who retired in December 2017 after 32 years of military service.
As chief of joint staff for the V.I. National Guard (VING), Col. Harris is charged with the responsibility for managing the day-to-day operations of the VING in support of its federal and local missions. He is tasked with facilitating programs and directives for the adjutant general and coordinating efforts throughout the organization to ensure effective planning, communication and mission execution.
"I am excited to be a part of the VING team as our intent is to build effective and efficient systems, and processes to achieve organizational sustainability," said Harris. As the "chief" he will oversee the directorate staffs and programs to include personnel, operations, logistics, facilities, communications and strategic planning. He served as the brigade commander of the 63rd Troop Command responsible for over 2,400 personnel and their families.
"My number one focus is developing future leaders to take the helm and steer this organization into the future," said Harris. "I am proud to join the ranks of the VING. As I support the TAG and the governor, residents and our guardsmen can be assured the mission is to be ready to respond to our community's needs. That is my commitment to the territory!"
His military career began in 1984 when he attended boot camp with the United States Marine Corps.  Four years later, he enrolled in the Reserve Officer Training Corps program at Tuskegee University in Tuskegee, Ala., and was commissioned in 1991 as a second lieutenant.  Harris has been a commander at all levels during his career. He is fully joint qualified and received a certificate of eligibility for general officer. He served as commander for Operation Onward Liberty 2016, a U. S. Africa Command defense initiative developed to facilitate implementation of the Liberian National Defense Act. His rotation was the program's sixth and final iteration.