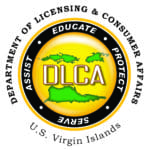 The Commissioner of the Department of Licensing and Consumer Affairs (DLCA) Devin Carrington Esq. has announced that there is an official $50 application fee to be charged to boards and commissions' applications, with the exception of the Certified Public Accountant Board ($100 fee).
This fee, not to be confused with the TEMA application fee, is used to cover the costs associated with processing licenses and ensuring continuity necessary to maintain and monitor business practices on behalf of consumers in the U.S. Virgin Islands.
Since the year 2000, the DLCA has been granted the authority to charge a processing fee, through a legislative act found in DLCA's Virgin Islands general business licensing statute. This statute sets forth procedures for processing business license applications within the department.
DLCA looks forward to finding answers to questions presented by licensees and the public. For more information, visit the DLCA on Facebook @dlcavi or email [email protected]. Contact the DLCA directly by calling 713-3522.