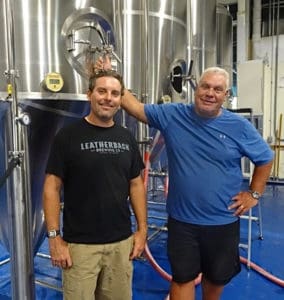 Leatherback Brewing Company has been months in the making with hard working team buttoning up a repurposed warehouse space in Frederiksted. And Saturday, May 12 the waiting will end, with a ribbon cutting and celebration. Situated near the airport in the William Roebuck Industrial Park, Leatherback Brewing's beer makers were brewing by March and distribution thorough the island has steadily increased.
"People are excited for this opportunity," Packy Gilbert, one of Leatherback Brewing's partners, said in a statement. "Independent brewing from people who love St. Croix and quality beer is something to celebrate!"
"We are dedicated to producing an authentic Virgin Islands and Caribbean product and doing it with as much homegrown involvement as possible, supporting local farmers and creating uniquely Caribbean versions of traditional beers" Managing Partner Aaron Hutchins, said.
Gilbert and Hutchins and their experienced brewery team will celebrate next Saturday, May 12, with an open invitation party at the brewery featuring six delicious beers and several bands and food trucks. The St. Croix Chamber of Commerce will lead a ribbon cutting at 10:30 a.m.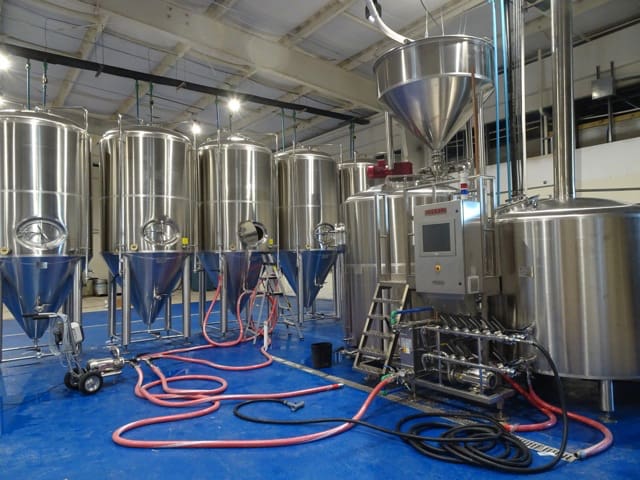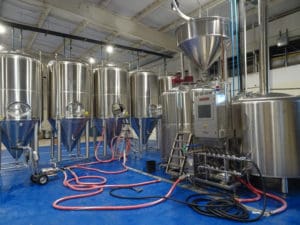 "We currently have Luke Slupesky and Misfits of Funk booked with a few other surprises in store," Ivy Hunter, retail and marketing manager for the brewery, said.
"We're excited to have some of the most popular local food trucks attending including Killer Tacos and Love Croix Ice Cream scheduled and there will be brewery tours and lawn games,' she said. (Full disclosure: Hunter free lances for the Source when time permits.)
The completely renovated warehouse now features a palm grove and outdoor bar.
By the 2018-2019 season, Leatherback Brewing Co. plans to offer a tasting room, finger foods, an indoor/outdoor bar, a family area, a back deck and patio with a sea view, a field for events, a conference room, and a visitor walkway that overlooks the huge fermenters and kettle.
Hutchins pictures fundraisers with a conservation bent, primarily around leatherback turtles. He envisions sports events and car shows. He plans to hold home brewing workshops and to expand into St. Thomas.
Born and raised in Frederiksted, Hutchins had "messed around" with home brewing and began exploring brewing operations with local attorney Scot McChain. The two developed a business plan. In late 2016, Packy Gilbert, who had lived most of his life on island moved home from Pennsylvania and caught wind of the brewery plans.
After a beer on the boardwalk with Hutchins, Gilbert signed on and then brought in John Giannopoulos from Sly Fox Brewing Co.
"Having someone in the industry vouch for you really helps," Hutchins said in a recent interview. "John became a partner; everything was green light."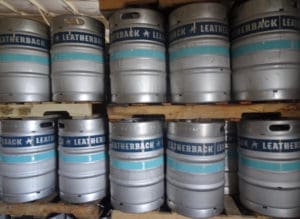 The brewing operation lacked only a brewmaster, and Giannopoulos knew just the man – Dave Bronstein. A former brewer with Sly Fox who was making his own recipes at Forgotten Boardwalk Brewery in New Jersey, Bronstein was game. He moved his family to St. Croix, and his wife, Ivy Hunter, assumed the role of retail and marketing manager for Leatherback Brewing. She had worked in the brewing business for years.
Mike Gilbert, Packy Gilbert's father, came home to lend a hand.
Although the company sourced out plumbing and electric work, the Leatherback team has rolled up its sleeves in every other realm of the brewery's construction. It self-distributes its kegs to venues around the island.
The brewery's 20,000-square-foot building can house 18 fermenters; permits are in place for the additional twelve. Each fermenter yields 60 kegs, or 400 cases, of beer. One keg equals half a barrel.
According to Giannopoulous and Hutchins, craft beer is independently owned and is all about ingredients: malt, hops, yeast and no adjuncts.
"We're going to have fun with it!" said Hutchins. "We'll source as much as we can in the Virgin Islands and with our neighboring islands."
Leatherback gets its malt from Germany and and its hops from Germany and North America. But Hutchins is eager to experiment with flavors such as local mangoes and passionfruit; he wants to try toasted coconut.
"Malt is the base part of beer; we'll add the flavors of the fruit into the kettle," said Giannopoulous.
"Like lemon grass, sorrel, and ginger – all the things that are common in bush tea," chimed-in Hutchins.
An environmental engineer and manager and an independent consultant, Hutchins has run the Nature Conservancy on St. Croix, as well as on Puerto Rico and in the BVI. He came up with and pushed hard for the name Leatherback.
"Having grown up on St. Croix, I've always known the leatherbacks were an endangered species," he said. "And these turtles always come home."
Hutchins likes that about leatherbacks; he came home himself.
"We're all about the outdoors. It's who we are as people and as a company," he said, adding that spent brewery grains make high quality animal feed.
Brewmaster Bronstein gives his spent grains to local farmers.
"We're trying to help them get back on their feet. Pigs can have a lot of grain in their diet, and cows can take up to 30 or 40 percent of their diet in grain," he said.
The Leatherback Brewing Company hopes to secure Economic Development Commission status and plans to hire locally.