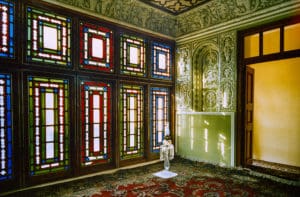 On the evening of May 23, Baha'is in the Virgin Islands and around the world celebrate a holy day commemorating the very beginning of the Baha'i Faith — a day known to Baha'is as the Declaration of The Báb.
The Bahá'í Faith began with the mission of two divine messengers, The Báb and Bahá'u'lláh. The Báb was the Herald who prepared the way for the coming of Bahá'u'lláh.
The Bahá'í era dates from May 23, 1844, when, in the Persian city of Shiraz, The Báb declared His mission. On that occasion He spoke these words to Mulla Husayn, who was the first person to recognize that mission: "Verily I say, I am The Báb, the Gate of God…This night, this very hour will, in the days to come, be celebrated as one of the greatest and most significant of all festivals."
Following his declaration, The Báb sent Mulla Husayn to Teheran to seek out Baha'u'llah, who instantly accepted The Bab's message and summoned all those around him to do the same. Thus, from the earliest days of the Baha'i Faith, The Báb and Bahá'u'lláh were united in spirit.
One can better understand the meaning of this Baha'i holy day, characterized as this 'greatest and most significant of all festivals,' if he or she reflects on how since then the world has utterly changed. Baha'is believe that The Báb and Bahá'u'lláh released a creative energy that is transforming everything about human life.
The Báb wrote, "I am a letter out of that most mighty book and a dewdrop from that limitless ocean, and, when He shall appear, My true nature, My mysteries, riddles, and intimations will become evident, and the embryo of this religion shall develop through the grades of its being and ascent, attain to the station of 'the most comely of forms,' and become adorned with the robe of 'blessed be God, the Best of Creators."
Bahá'u'lláh wrote. "A new life is, in this age, stirring within all the peoples of the earth; and yet none hath discovered its cause or perceived its motive."
Now a community of approximately five million established throughout the world, Baha'is work hand-in-hand with other communities, well-wishers, partners and collaborators to fulfill the promises of The Bab and Baha'u'llah that will see humanity living together in peace and prosperity.
For more information on the Baha'i Faith and local activities, including study circles, devotional meetings, junior youth groups and children's classes, call 277-8470 in Christiansted; call 772-3827 in Frederiksted; call 998-6132 on St. Thomas.