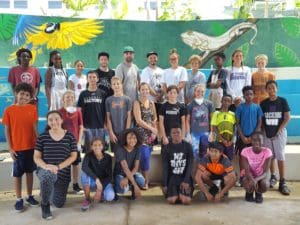 Thanks to generous donors, Virgin Islands Montessori School & Peter Gruber International Academy (VIMSIA) — the only school in the U.S. Virgin Islands to offer the world-renowned International Baccalaureate Program — is offering several two-year full scholarships for 11th grade students.
"Receiving a two-year scholarship to the International Baccalaureate Diploma Program at the Peter Gruber International Academy (PGIA) could literally change the trajectory of a young adult's life," said Gloria Zakers, PGIA director and VIMSIA parent.
Working hard in grades 11 and 12 could allow a young Virgin Islander a bridge to college with choices never thought possible and the benefits do not stop at financial support.
Zakers said, "The work ethic and perseverance that is instilled by the IB Diploma Program will help to make a college-bound student hugely successful no matter what challenges they will face."
Apply today for a rising 11th grader to be in this highly coveted program. Full tuition scholarships are available. "It's like playing the lottery for the grand prize when only a few people buy tickets!" said Zakers.
The application process is streamlined and easy. Do not hesitate to reach out to the school with any questions about these scholarships. Contact Director of Admissions Kara Ebe at [email protected] or 775-6360 or visit the website: www.vimsia.org
The scholarship deadline has been extended to June 15.