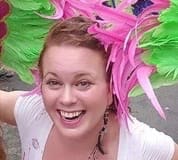 Molly B. Spang, 32, formerly of Superior, Wisconsin, and most recently a resident of St. Thomas, died Wednesday, June 6, 2018, at Essentia Health St. Mary's Hospital in Duluth, Minnesota.
She was born on July 13, 1985, in Duluth, the daughter of Thomas Spang and Maureen (Olson) Plaunt.
She graduated from Superior High School with the class of 2003, then attended Wisconsin Indianhead Technical College and Lake Superior College. She was an aquatics instructor on St. Thomas and also worked at the Hook Line & Sinker and the Pie Whole.
Former employers included the Battle Axe in Iron River, Minnesota, and 49th State Brewing in Alaska.
Molly enjoyed socializing with friends, swimming and all water sports. She also liked turtles.
Preceding her in death were her grandparents Melvin and Dorothy Olson and William and Dorothy Spang, and her aunt and uncle, Patti and Kip Majeski.
Molly is survived by her parents, Maureen (Michael) Plaunt and Thomas (Jennifer) Spang of Superior, Wisconsin; brother, Casey (Kristen) Spang of Albuquerque, New Mexico, and sister, Brenna Spang of Denver, Colorado, and numerous extended family and friends.
Memorials can be made to the Molly Smiles Swimming Scholarship.