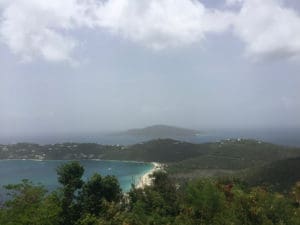 A series of weak tropical waves moving south of the Virgin Islands are expected to continue to bring Sahara dust into the area for a week or more.
Residents complained Tuesday of poor visibility, and government experts warned of complications for allergy-sufferers and those with compromised respiratory systems. Both are hallmarks of the African dust that is carried into the area several times a year, particularly in the spring and summer.
The reddish-brown particles have been the subject of much research, much speculation, and no little consternation in recent decades. Originating in Africa and transported by the tradewinds, the dust contains iron, various microorganisms and manmade chemicals. Scientists have studied its effect on everything from human health and the life of corals, to hurricane-formation.
The latest event began Monday.
"We could see it coming in," said Ian Colon, a meteorologist with the National Weather Service in San Juan, which began tracking the dust about 8 p.m. Monday.
It may abate temporarily on Thursday or Friday as a weak tropical wave well south of the Virgin Islands and Puerto Rico moves westward out of the region, Colon said. But it will be a recurring issue for the next 7 to 10 days because more weak systems to the east of the Caribbean are expected to travel west and pass near the area, bringing more haze and possible pollutants.
"It's going to be hot for the next few days, and hazy," Colon said.
The temperature is expected to climb to an unusually high mark for this time of year, topping off in the low 90s. And the heat index – the "feels like" measure – may be closer to 100.
Except anecdotally, there may be no way to compare the current conditions with past occurrences. Nationally, scientists do take air quality samples under many circumstances, and are able to measure the amount of pollutants, but Colon said the NWS does not measure Sahara dust events in the Caribbean. Jamal Nielsen, spokesman the VI Department of Planning and Natural Resources, the local partner for the federal Environmental Protection Agency, said DPNR does not monitor local levels either.
The department issued a statement Tuesday, urging residents with allergies and respiratory conditions to stay indoors if possible and to check with their doctors if necessary.
The up side for Sahara dust is that some scientists believe it inhibits the formation of hurricanes.
"There's still some debate on that," Colon said. Although there does appear to be a correlation between the presence of dust and the absence of tropical storms, "It's a developing topic."
But for Sandra Maina, an atmospheric scientist who studied the phenomenon at the National Center for Atmospheric Research in Colorado, the case is closed. While she agrees with Colon that there are many factors involved in storm formation – including water temperature – she noted that they are powered by moisture. The dust reduces the moisture in the air and "inhibits storms from strengthening."