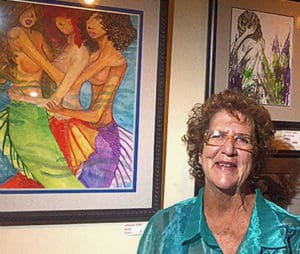 Jane Coombes is no dilettante art dealer. Her knowledge of Caribbean painting, sculpture and ceramics is as deep as her resilience. She has led Mango Tango Art through economic swings and devastating storms since the doors first opened across from Havensight Mall in 1988.
After the recent hurricanes her inventory is intact and her mission remains, helped along by hard work and clever marketing.
Coombes has seen scores of weather events and at least three economic downturns have their effect on the economy of St. Thomas.
"As enriching as good art is, in difficult times it becomes less important than a new generator or dependable transportation" Coombes said. "Smokey (Smoky Pratt, her late husband) and I survived Hugo, Marilyn and all the others together and guarded our artworks like lions would their cubs. It was more difficult this time without him but experience gave me the strength to keep the gallery intact."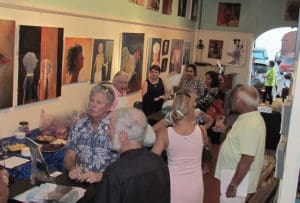 The gallery will host a wine tasting Thursday, June 21, featuring Italian reds and whites imported by The Italians, distributors from Bovoni. The event will run from 5:30 to 7:30 p.m.
Over the years, the gallery has shown such respected local artists as Max Johnson, Cathy Carlson, W.B. Thompson, Don Dahlke, Dana Wylder and Sheri Erickson. "Don Dahlke was living and working on St. Croix. He was the one who put Mango Tango on the map. Don is currently living in Mexico but still sends his brilliant paintings to me. His works fetch thousands and he maintains a large following here."
No matter how trying the times might be, Coombes is rarely without an idea to bring more art before the public. With relationships that span three decades she can depend on support from her stable of artists to keep her shows fresh and new.
"For a while, we focused on fine furniture. We hand picked special pieces offered by the Estate Whim Museum on St. Croix. They were of such exquisite quality that many were featured in Architectural Digest Magazine. Just a few years ago we partnered with Annie Wescott of Tortola to bring in furniture made from retired Tanzanian fishing boats. We continue to reinvent the gallery."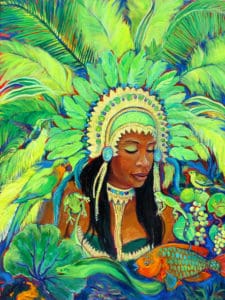 In 1994, Mango Tango left the tourist-filled Havensight area for a bigger, better space in Al Cohen's Mall on Raphune Hill.
"We loved the tourists but word had gotten around that this was a serious art gallery rather than a souvenir shop. We came up here for more display space and a complete shop for our framing customers. Our customers were still our regulars, collectors, the curious and homeowners who had seen art from Mango Tango when they toured their prospective new home. Once they moved in, the art was gone and they needed to find replacements."
Understanding the broad interest of art lovers, Coombes displays ceramics by such well-known creators as Helen Dunkerly, Mandy Thody and Jessica Rosenberg. Internationally known painter, Mel McCuddin ships his work regularly from his studio in Washington state and visits St. Thomas annually for a show opening.
"Our opening nights are festive. Island art aficionados gather to view the new art, meet the artists and catch up with old friends," she said. "Lately we've been mixing fine art with fine wine at tastings at the gallery. Hard to find French wines and a lovely selection from Italy pair up nicely with good art."
The last opening of the season is scheduled for June 29, featuring ceramicist Mandy Thody, sculptor Courtney Devonish and newcomer Ishah Chinnery from Jost Van Dyke.