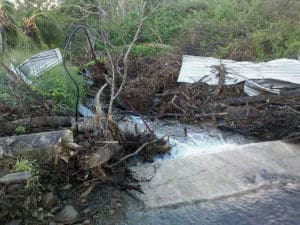 Somebody's 55-gallon blue metal water tank has been resting in a swale in LaGrange for no one really knows how long. Trapped further down the gut is enough sediment to grow a healthy crop of brush – an estimated 637 tons of soil clogging a 23-foot wide gully for about 325 feet.
Similar scenes can be found across the Virgin Islands, where Irma, Maria and the heavy rainstorms that followed those September hurricanes ripped through communities, soaking and tearing off great pieces of lives, then washing them down the hillsides. The natural guts, culverts, and small waterways that crisscross the islands soon overflowed, awash with galvanized roofing, lumber, great chunks of concrete, tree limbs, rocks and boulders and layers and layers of soil.
The water eventually receded. But the detritus it carried into natural water pathways was left behind, creating not just an eyesore but a potential flood hazard in the next big rainstorm and the very real possibility of undermining roads.
Massive debris removal efforts since the storms have concentrated primarily on land sites and shorelines, but this week attention turned specifically to watersheds, which in the territory translates primarily to natural and enhanced guts that carry runoff down hillsides to the sea. With few exceptions, they were still brimming with storm debris nine months after the hurricanes.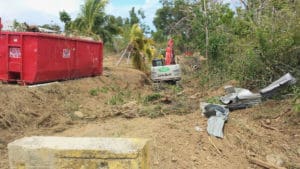 But Monday the V.I. Public Works Department cleared its first gut under the auspices of a federally sponsored program known as the Emergency Watershed Protection Program. It was an area near St. George Botanical Gardens on St. Croix. On Tuesday, work moved to LaGrange. There are about 30 designated sites throughout the Virgin Islands that are slated for debris removal under the program. The U.S. Department of Agriculture has committed to pay for the work, but strictly on a reimbursement basis.
Also scheduled for clearance this week are LaGrange Road/Valley Road and LaGrange East on St. Croix and Emmaus Gut and Pastery One and Two on St. John. Likely next up are areas marked as "priority" on a program listing: a portion of the Garden Street area not previously cleared and Savan Gut on St. Thomas, as well as Starfish Market, Chocolate Hole and Mongoose Junction on St. John.
The Virgin Islands program is a small part of a "Caribbean" program which includes the vastly larger island of Puerto Rico. In January, the USDA announced it had determined there were a combined 441 "exigency" watershed sites in Puerto Rico and the Virgin Islands in need of prompt debris removal. There were also 122 "non-exigency" sites that needed attention.
The numbers for the Caribbean program were higher than the total for all the rest of the U.S., according to Julie Wright, a program analyst and public affairs specialist with the Natural Resources Conservation Services, who is based in the Virgin Islands and works with the V.I. and Puerto Rico. The NRCS is a U.S. Department of Agriculture agency that provides technical and financial assistance to farmers and other landowners.
The watershed protection program is "a little fluid in terms of number of sites," she said, noting that some may have been added since the original assessment in October and November and, conversely, that the local government has already cleared a few areas as it worked on general hurricane debris removal. But overall, the numbers are similar to what was previously announced.
"The scope is pretty dramatic," she said. "It's really a huge task."
Edwin Martinez, who was the USDA's Emergency Watershed Protection coordinator for the Caribbean until Friday, said the total federal cost for debris removal from watersheds in the Virgin Islands will be about $300,000.
As the "sponsoring agency" for the Virgin Islands, Public Works is responsible for any permitting or access costs (such as removing a fence or other barrier to reach a gut,) but the federal government will reimburse the major costs including machinery, equipment and workers, Martinez said.
There have been widespread reports of delays in other, unrelated disaster programs, caused or exacerbated by the V.I. government's financial crisis and subsequent difficulty to cover costs upfront.
However, with the watershed program, Agriculture and the V.I. government make an agreement for each site.
"Some of those are really small projects," Martinez said, making it easier for the local government to pay contractors and wait for federal reimbursement.
Martinez said last week that he was hopeful that once the debris removal actually started, officials could start planning phase two of the Watershed Protection Program which is aimed at improving the sites to make them less vulnerable in future disasters.
"The cost is higher, and it's a more complex process," Martinez said. It will require the work of civil and agricultural engineers to assess and implement such things as erosion control, bank stabilization and repair.
Meanwhile, work on clearing the guts and other watersheds continues.
Wright said that from the time an agreement is signed, DPW has 10 days to complete the debris removal project it covers. With that timetable, she estimated the entire program should be completed within a few weeks.
Responsibility for the disposal of watershed debris – an issue that proved highly controversial for other debris clearance – rests with Public Works, Wright said. USDA just requires that it be in a safe and environmentally responsible manner. Asked about the possibility of recycling sediment, she noted it may contain contaminants that would limit usage but suggested it might work as cover at landfills.
Messages left at Public Works Commissioner Nelson Petty, Jr.'s office Tuesday and Wednesday, seeking comment about disposal and other aspects of the program, were not returned.