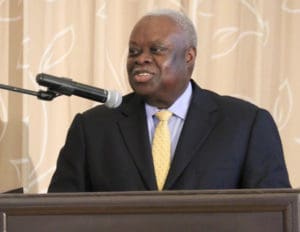 While there was a lot to take note of during Tuesday's marathon meeting of the territory's Hurricane Task Force, a few points were clear: the government is exploring an evacuation plan if another major disaster occurs within the next few months, climate change will make future storms more intense, and preparation is key to avoiding any more catastrophic damage.
The finer points are detailed in a multi-page report presented Tuesday that experts say can be used as a "guidepost" for navigating future pre-and-post hurricane preparation, recovery and response.
Speaking after Tuesday's meeting, Gov. Kenneth Mapp explained that regardless of the challenges, different perspectives about the government's performance post hurricanes Irma and Maria, and how the ongoing recovery efforts are faring, the report offers a solid plan and strategies where none might have existed before.
That runs the gamut from building a hardened power and communications infrastructure to educating government and private sector representatives about each phase of the response so that everyone is operating on the same page. At the end of the day, it's a lot of work that will take more than a year to complete. Mapp added Tuesday that the biggest challenge is navigating the "public skepticism" that he said could be tempered with more discussion, data, and information about what's actually going on.
The report, which will be published in full on July 20, will also be open for public comment, and Mapp said he hopes the plan can move forward with solid support.
Meanwhile, the strategies for making the territory stronger and more resilient center on four actions: hardening the territory's infrastructure, reconfiguring systems, changes in governance, and improving planning and preparedness.
Within those categories are sub-categories, including energy, communications, housing, transportation, waste management and health, among others.
Overall, the report points to an aging infrastructure that needs to be improved with better roads, underground lines, diversified fuel sources, and political systems that make it hard for any kind of plan to be carried out without delays.
Fixing those issues before a storm hits instead of after is key to managing a disaster. Task force members said Tuesday that it's also going to help plug deep holes that could have helped avoid some of the challenges the territory is facing in the wake of September's storms.
Dina Simon, the task force's product and strategy lead, spoke during the meeting about building facilities to withstand Category 5 storms, getting away from "makeshift" energy solutions such as micro grids and looking for alternate options, evaluating the structures within different departments and agencies to see how systems can be properly regulated, and establishing a territory-wide emergency operations center that makes puts the importance of "preparedness" on the forefront of discussion for residents all year round.
"We need to be as secure as possible," she said. "The more holes in the system leads to the type of devastation that could have been avoided this time around, and can help us forgo some potential catastrophes in the future."
Guiding those efforts should also be an awareness of:
– The increase in global water temperature that can increase the intensity of storms,
– The geographic differences between the various islands,
– And the fact that the territory is not currently operating at full capacity. With poles still down, tarps still on roofs, and facilities still damaged, Simon said taking the time to "do things right" could lessen the restoration timeline after future storms.