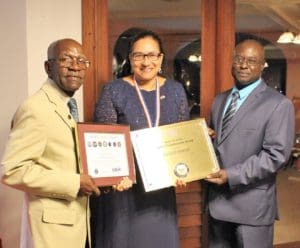 The Virgin Islands Employer Support of the Guard and Reserve (VI ESGR) awarded Zandra Petersen, ombudsman director, the James M. Roche Spirit of Volunteerism Award during the committee's annual awards dinner on June 23 on St. Croix.
This honor is the highest award given by the ESGR to a state committee volunteer. It is given for sustained and exceptional service for a period of at least five years. Every year an ESGR volunteer is named for each of its four regions, Petersen is the 2018 Roche Award recipient for the Southeast Region.
"This is an historic occasion. Zandra is the first VI ESGR committee member to receive the highest award given by ESGR to a state volunteer," said Beresford Edwards, VI ESGR state chairman. "It is truly an honor for me to present this award."
Craig R. McKinley, ESGR national chair, stated in Petersen's award letter, "Your selection for the Roche Award highlights the tireless commitment, patriotism and public service you have provided over the years in support of our Guard and Reserve members. Your active participation across a broad spectrum of committee activities has significantly enhanced the effectiveness of ESGR and the defense of our nation."
"I am truly humbled," said Petersen. "I couldn't believe I had won this award. I was just honored to be nominated from the Virgin Islands."
A recipient of the Roche Award must have served at least five years, received the state Spirit of Volunteerism Award, be nominated by the state chairman and have personal endorsements. Petersen was endorsed by Maj. Gen. Charles M. Hood, former adjutant general of the Virgin Islands National Guard (VING) and by Pierina Feldman, chair of the Public Employees Relations Board. Petersen is the executive director of the Public Employees Relations Board.
"As a teenager I watched my mother do a lot of volunteer work, which inspired me. So, I immediately knew I had to dedicate this award to her in heaven," said Petersen. "I would like to thank Maj. Gen. Hood and Mrs. Feldman for their endorsements, and I especially thank Mr. Beresford Edwards for nominating me. I am very touched."
"Like John F. Kennedy said, 'Ask not, what your country can do for you but what you can do for your country.' I never forgot that quote," said Petersen. "That is why volunteerism is in my blood… You just don't say, no, if you are asked. You have to say, yes, you have to give back. It has been an honor and a pleasure to work with the ESGR Team."