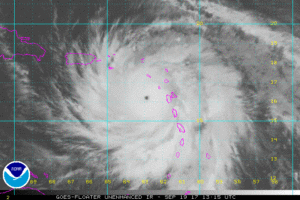 In response to the latest report of the first named storm of the Atlantic 2018 Hurricane Season, Lt. Gov. Osbert E. Potter urges the territory to be prepared and put protective measures in place before the storm approaches.
Hurricane Beryl, which is projected to weaken over the weekend, may bring heavy rains to the territory early next week. Potter, who also serves as the territory's commissioner of insurance, indicated that although it might be difficult to buy homeowners insurance now for protection against Hurricane Beryl, homeowners are still strongly encouraged to buy property insurance for the remainder of the 2018 season.
The lieutenant governor has issued the following reminders:
1) Review your policy and know what your homeowner's insurance policy covers.
2) Store important documents, such as your homeowner's insurance policy, in a safe and dry location.
3) Secure your property by putting up shutters and plywood before a storm approaches the territory.
4) Go to the Office of the Lieutenant Governor's website at http://ltg.gov.vi and download the 'Home Inventory Checklist.' Complete the inventory of all your home contents.
5) Take photos before and after a storm.
6) Make a list of all your damages immediately after a storm.
7) Stay tuned to your radio and television stations for weather updates.
For more information, contact the Division of Banking, Insurance and Financial Regulation on St. Thomas in Nisky Center, 2nd floor, at 774-7166 or on St. Croix at 1131 King Street, 3rd floor, at 773-6459.