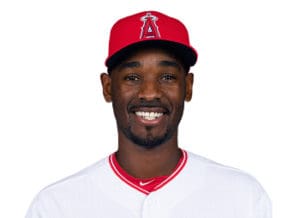 It has been a year filled with ups and downs for 29-year-old St. Thomas native Jabari Blash, who got called back up to the major leagues July 13 by the Los Angeles Angels.
He started this past offseason as a member of the San Diego Padres, but was traded to the New York Yankees in early December. He was a member of the Yankees organization for just about two months before they traded him to the Angels in February.
He has spent much of this season going between the Angels and their AAA affiliate, the Salt Lake Bees, and this most recent call up marks his third stint with the Angels this season. In 59 games for the Salt Lake Bees this season Blash is leading the team in home runs with 23 and slugging percentage at .755.
His success in AAA this season has not gone unnoticed as he won the Pacific Coast Player of the Month in April when he had a batting percentage of .362 and hit 22 RBIs. He also made the Pacific Coast All Star team this season.
This video shows one of those homers.
He struggled in his first two trips up to the majors this going two out of 19 from the plate with nine strikeouts and three walks.
The Angels return from the All-Star break Friday with series against the Houston Astros and Chicago White Sox before facing the Seattle Mariners, the team that originally drafted Blash in 2010.