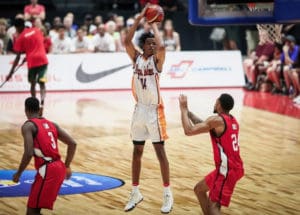 It has been a busy summer for 19-year-old Nicolas Claxton, a forward on the U.S. Virgin Islands National Basketball Team.
He made his senior national team debut on June 28 in a 84-74 victory against the Bahamas, contributing five points and seven rebounds in just 14 minutes in San Juan, and then played an extended 25 minutes and had seven points and six rebounds against 23rd ranked Canada on July 2.
The experience this summer gave Claxton a great opportunity to evaluate his game as both the Bahamas and Canada featured players currently on NBA rosters.
He is now participating in summer practices at the University of Georgia Bulldogs, where he looks to improve on his freshman season where he played in all 33 games, starting five. During his freshman season his biggest contributions were his hustle plays and rebounding ability. His biggest focus this offseason has been shooting, which he demonstrated in the game against Canada where he knocked down a three-pointer.
He averaged four points, 3.9 rebounds and 1.9 blocks last season and expects to see an increased role, since Yante Maten, Georgia's starting forward last season, the second leading scorer in school history, has graduated. There are big holes to fill as Maten started every game last year and averaged 14.7 points, 6.9 rebounds and 1.6 blocks per game.
Claxton's best game during his freshman season was Dec. 22 against Temple, when he posted career highs in points (14) and rebounds (9).
Claxton was also named to the First-Year SEC Academic Honor Roll for the work he has put in the classroom.
Tom Crean, who is entering his first season as the Bulldogs head coach, said he likes what he seen so far out of the Virgin Islands forward.
"He's everything that I thought he would be and more when it comes to that versatility" at the Southeastern Conference meetings, after just watching him for a few practices. Claxton was one of the few players that Creen mentioned by name in his introductory press conference.
Crean was considered by some as the best head coach on the market and has led teams to the NCAA tournament nine times, including a Final Four run with Marquette in 2003. His teams have made it to the Sweet Sixteen four times. Crean has had previous history in developing forwards; at Indiana University he coached Cody Zeller, who now plays with the NBA's Charlotte Hornets.
The buzz is starting to build in Athens, Georgia, as Claxton has been featured in the student newspaper, Red and Black, as a player that is "on the rise" for this upcoming season.
Outside media expectations for Georgia basketball are very low this season, as the Fansided blog has predicted them to finish 13th out of 14 teams in the SEC in their preseason SEC Basketball Rankings.
In the next qualifying window for the FIBA World Cup, USVI will take on 20th ranked Venezuela on Sep. 13 and 11th ranked Brazil on Sep. 16; while the Bulldogs begin their season Nov. 9 with a home match up against Savannah State.