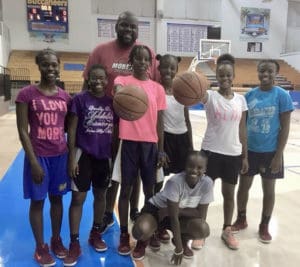 The Charlotte Amalie High School gym is still closed for repairs from damage suffered during September's hurricanes, but thanks to the work of a St. Thomas organization, young athletes from the island still have a shot at pursuing their goals at the next level.
V.I. College Prospects was founded in 2015 by Jalani Horton, head coach of Charlotte Amalie girls varsity basketball. The group focuses on getting Virgin Islands athletes scholarships so they can have the most playing and academic opportunities available to them.
The organization is not limited to girls basketball, although currently most that's the sport that most of the participants play. The organization provides training and teaching fundamentals to athletes as early as fifth grade, along with academic help such as SAT Prep and Registration for the NCAA.
Other activities that the organization provides include CPR and First Aid Training as well as getting involved in community events. Most recently players participated in the Run for Rett 5k, which raises awareness for Rett syndrome.
The primary element to receiving a scholarship Horton believes is making sure players grades are where they need to be and also having a strong work ethic.
Horton has been hosting summer workouts to instill work ethic in the athletes that choose to attend.
The organization helps gain exposure for the playes by helping them find places on summer travel teams. For example, Electra Allembert, a sophomore guard for All-Saints, will return to the territory after completing a summer where she played for Power Move, a team out of Baltimore. Allembert was able to play in tournaments all across the country.
Horton expects to send more players to the states next summer.
The next element is to expose the athletes to college coaches. The organization will hold the second annual Rock City Jam Nov. 21, a day before the Women's Paradise Jam tips off, which means that eight Division I basketball coaches will be on island while the action is going on.
This year's Rock City Jam matchup will feature the V.I. College Prospects traveling girls team, the V.I. Daughters, against Worcester Academy from Massachusetts, the team featuring V.I. native Aliyah Boston, fresh off her gold medal run in Belarus.
The organization is seeing some early success, as shooting guard Shania Liburd, who had been working out with V.I. College Prospects for three years and recently graduated from Charlotte Amalie High School, will begin her freshman year at Moberly College on a full scholarship. Moberly College is a junior college in Missouri that has featured 72 Division I players including Anisha George from St. Croix, who now plays at North Texas.