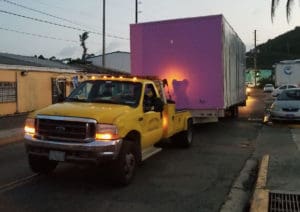 The Virgin Islands Department of Education urges the motoring public to be mindful and accommodating of the transportation of modular classrooms in effect throughout the territory.
The wide-load convoys will be on the roadways transporting classrooms to their respective school sites over the coming weeks. The Virgin Islands Police Department will assist with traffic control while units are in transit; however, the public is asked to drive carefully around the motorcade to avoid any accidents.
The next shipment of classrooms is scheduled to arrive in the territory on Saturday, Aug. 4.