To try to inform the community on where the candidates stand, the Source sent each senatorial candidate a questionnaire with questions on pressing issues for the territory. We are running the answers in the order in which the candidates responded. (See Related Links, below.) We aim to publish all the Democratic Party candidates answers prior to the Aug. 4 primary, contingent upon the candidates providing their responses in time. This story covers the views and planned initiatives of candidate Stedmann Hodge Jr. who is running for as a Democratic candidate in the St. Thomas/St. John District.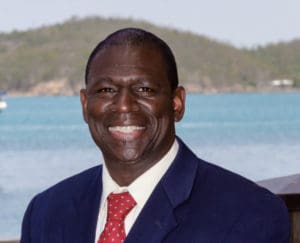 Stedmann Hodge, Jr. is the owner of Labor Matters, Employment Training & Development Services. He was elected as a delegate to the Fifth Constitutional Convention and served as Sergeant of Arms and Chairman of the Committee on Labor and Economic Development. He is a veteran, and active member of the Virgin Islands National Guard, with the 661st Military Police Company. He was also the labor relations coordinator at the Schneider Regional Medical Center and labor relations compliance officer at the Department of Labor.
Source: The V.I. government has a $100 million-plus annual deficit, currently cannot borrow on the private market and is not paying many of its obligations, to GERS, to WAPA, territorial nonprofits, sewage treatment contractors, trash haulers, health care contractors and more. But the territory has never missed a debt payment on its $2 billion in debt. Half of that is secured by federal rum taxes which pay creditors before the territory gets control of the funds and half is secured by V.I. Gross Receipts taxes which, by statute, IRB is supposed to give to a third party to pay creditors first. How can the territory avoid a fiscal shortfall that could force cuts to services and government layoffs in order to pay creditors first?
Hodge: If the government fails to fulfill its debt obligations the territory will face the risk for immediate bankruptcy. This means that it is priority to find other sources to generate revenues to satisfy this debt. Only with proper oversight can we create initiatives to address this and bring the territory back to solvency. It is important that government reduces its spending, facilitate or subsidize new businesses or business operations to increase the workforce which increases the taxpayer base. Currently, the unemployment rate in the territory is 9.5 percent. The unemployment rate must get to 4.7 – 5.8 percent to create a health economy. We know what the drivers are to eventually balance the budget and have a surplus. What we don't have is a strategic plan that prioritizes the most important factors to the least important factors to build a healthy economy.
Source: What is your fiscal and economic plan?
Hodge: My fiscal and economic plan requires an initiative to create a fiscal and economic team to present a detailed picture of the Virgin Islands economy and create healthy economic growth. We are far from a balanced budget and having a surplus needs to the goal versus just having a balanced budget. Our government must find the means to increase consumer spending which would keep consumer dollars in the territory while stimulating the economy. So, how can we achieve this? It's important that the fiscal and economic team explore:
a. The growth of small business which will then hire new employees that would contribute in tax revenues.
b. Encouraging local business to carry more local products and produce which would place some of the farmers in a different tax bracket.
c. That the territory can get the maximum benefit from our tourism product which would include marking St. John and Water Island as the best bed and breakfast destination in the Caribbean. This would include marketing St. John's Trunk Bay which is always listed in the top five beaches in the world
d. To further improve on the Economic Development Commission benefit to increase the number of EDC beneficiaries to 200 which will create additional jobs for new employees to contribute in increasing tax revenues.
These are only a few of the items that will increase the tax revenue in gross receipts and income tax while reducing the unemployment rate which creates a healthy economy.
Source: Many young Virgin Islanders are seeking educational and financial opportunity outside of the territory. What plans will you execute to encourage those that remain to stay, and to get those that have left to return?
Hodge: Training and development has to begin prior to a student graduating from the educational system. it's important the High School graduates are prepared for the workforce and have taken at least one Vocational Education course. Those students that are prepared to attend a college or university should be offered a scholarship for critical positions that need to be filled in the territory. The contract should stipulate a requirement to return to the territory for a specified period of time. In the end, it imperative that the salaries that are offered are commensurate to the cost of living.
Source: What would you propose to address the collapse of GERS in light of the $3 billion-plus shortfall and projected exhaustion of all funds between 2020 and 2023?
Hodge: The GERS requires an infusion of cash to satisfy the current debt and convert or transition to a defined benefit plan where the government makes the contributions. The Government may still offer a 401k plan where the employee can make contributions. This would give the government employee two pension plans with a greater annuity.
Source: How will you help make government more transparent?
Hodge: Implement a transparency initiative to use the right type of social media channels, provide accessibility to public information on agency websites and organize town halls that for community input on projects or policies that may have negative effects.
Source: How do you feel about legalization of marijuana and why?
Hodge: I'm in support of the legalization of medicinal marijuana under the condition that there are dispensaries which would enable proper management and collection of tax revenue.
Source: What can you as an elected official do to help alleviate violent crime in the territory?
Hodge: In order to alleviate violent crime in the territory the Department of Public Safety must be provided the required resources to be successful. We understand that there are many budget shortfalls that impact their department. As an elected official it's important to determine if the department has a five year plan which identifies the most critical areas that must be addressed immediately and progresses to the least critical areas. Once this has been done a part of their budget can be earmarked for those critical areas in the form of an appropriation or grant. The objective is to enable the agency to focus on prevention which would alleviate the violent crime in the territory.
Source: How do you see your role in overseeing government agencies?
Hodge: My role in overseeing government agencies is to make inquiries to the department heads relative to all of the agency activities. By making these inquiries the body of the Legislature is able to determine if the agency is in violation of a statute or policy, that the agency may be mismanaging funds or engaging in practices that are not in "good faith," and ensure that the agency has the infrastructure and human capital to meet public service needs and meet organizational goals.
Source: Why are you running and why should voters choose you instead of another candidate?
Hodge: I'm running for office because of my love of community. Having served as an elected delegate to the Fifth Constitutional Convention and pursuing an MPA in government management (2017) along with a passion for community service is a reflection of my choice to be a policy maker and public servant.
I have and will always apply common sense principles in all of my decision-making, and I work diligently and cooperatively with my colleagues to find common ground that serves the best interests of all Virgin Islanders.
Voters should consider electing me to service because I am experienced and will bring honesty, transparency and accountability to the first branch of Government. It's about doing what is right for all Virgin Islanders.
Source: What will you do to mitigate the effects of climate change on the territory?
Hodge: In order to mitigate the effects of climate change in the territory will require a stronger education campaign on investing in renewable energy. This will require that the University of the Virgin Islands, local banks, collective bargaining units, churches, NGO's and other organization support an education initiative to develop an infrastructure that gets away from the use of fossil fuels. This can also be accomplished thru a community cooperative as well. Where a local community or business district decides to invest in renewable energy projects and gain a return on investment. If this cooperative is subsidized by the government there is a great opportunity for the consumer to receive rebates if an energy loan program is established through the Department of Planning and Natural Resources.
Source: What is your plan to improve the schools and the quality of public education in the territory?
Hodge: My plan to improve the quality of public education requires addressing the budget shortfall and getting back to 100 percent funding for the Department of Education. This will allow the department to meet the required educational standards and have improved and successful educational outcomes. The Department of Education must have the required resources to prepare our students for the next step in their life. Our teachers show up every day with a passion that cannot be matched and strive to put forward their best to prepare their students with limited resources. This leads to the second part of my plan which is to empower teachers by providing them with a salary that is competitive and negotiated with their bargaining unit. This will immediately increase teacher retention levels, boost morale and create a culture that is embraced by the students and parents.
Source: How will you ensure that adequate funding is put toward healthcare services in the territory?
Hodge: Due to the lack of a strong fiscal and economic plan the government has made budget cuts to the hospital, Health and Human Services, all of which provide public services.
I would propose a funding pool based on tax reform and healthcare reform where funding will be earmarked for healthcare services. This funding pool will focus on persons with more severe conditions that require inpatient and outpatient care. Also, flexible spending accounts can be negotiated with employers to have deductions made from their employee's payroll if they did not have medical coverage. This will allow the number of patients that receive uncompensated care to drop significantly over time and generate more revenues that would have been written off.
Source: A significant amount of post-hurricane recovery on St. John, St. Croix and St. Thomas was made possible by non-profit organizations and volunteer groups. But private donations are down and budget deficits make more funding difficult. What would you, as a legislator, suggest to help support these community groups?
Hodge: The government sets aside approximately $1.5 million under miscellaneous expenses in their annual budget. These monies are given to NGO's, usually the same recipients. The efforts of the NGO's and volunteers cannot go unrecognized and should be commended for this. The Legislature can offer charter grants or subsidize certain programs. NGO's and volunteers have access to local and federal grants which enable their programs to be successful. When the government on a whole has become fiscally responsible and there is a surplus, more can be provided to NGO's and volunteer organizations.
Source: What do you as a senator believe should be priorities for infrastructure, parking and walkability on St. John? On St. Croix? On St. Thomas?
Hodge: There is a lack of accessibility in many areas throughout the territory. In 2016, the ADA required that all government agencies complete a self-evaluation and transition plan to ensure that the agencies are 100 percent accessible for persons with disabilities. In many cases, there are not sidewalks or ramps to gain access. It's important that the territory develops an infrastructure plan which will include meeting the needs of those that have disabilities. Additionally, all residents of the territory should have access to walkways and parking which contributes to a scenic and healthier lifestyles that would also increase marketability of the territory as it relates to tourism. In order to address or improve the three priority areas project management teams within stakeholder agencies must be put in place to move the process along more efficiently.
Source: The Revised Organic Act of 1954 gives the V.I. Legislature the power to establish a USVI constitution by any means it chooses. Currently, the territory cannot charge different property tax rates to different parts of the territory. The territory could set up property tax districts if it enacted a constitution. What should the Legislature do in regards to a USVI constitution?
Hodge: The Legislature has many options relative to establishing a constitution for the USVI. It is always bests to involve the community as the last five conventions did that. Without an infrastructure plan for the territory properties can be rezoned which significantly impacts residential properly that are in close proximity to the commercial business. When a constitution is established it must include a system based on the valuation of each property within their respective zone or area. One commercial business within a residential area should not impact the residents or homeowners within that area. It's important that all stakeholder agencies sit at the table prior to the establishment of a constitution. Why? It's a long wait until the stipulated date for amendments to be made to the constitution.