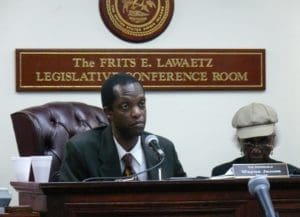 A witness from Denmark called to the stand on the first day of former Sen. Wayne James' federal corruption trial testified he had no knowledge of an invoice James submitted to the Legislature under his name for services never offered or completed.
James is facing two counts of wire fraud and one count of embezzlement dating to his term as a V.I. senator, from January 2009 to January 2011. The U.S. Government alleges that James repeatedly misused Legislature funds he received during that time to research the 1878 Fireburn, St. Croix's famous labor uprising.
Charges against James also allege some documents he submitted along with funding requests were fabricated to make it appear that the money was being used for legitimate research. According to the prosecution, James' misuse of funds became more "brazen" as time went on, beginning with "skimming from the top" and ending with wholly forged invoices.
Two of the dozen funding requests for Fireburn research James submitted to the Legislature over his two years as senator include invoices purporting to be from a Brian Kalhøj in Copenhagen. The invoices state they are for an array of research-related purposes including scanning, labelling, photo reproduction and translation.
Kalhøj, a friend of James from Denmark, appeared in V.I. District Court Monday and testified that the first of the two invoices is an inflated version of a bill for amateur translation work – unrelated to the Fireburn – he did for James years before James became a senator. The second, larger invoice was unknown to him, he said, until it was shown to him by police investigating James in 2014.
Kalhøj said he met James around 2000, when he was working as a receptionist at a hotel that James stayed at during trips to Denmark. He and James developed a friendship and kept in touch, mainly via e-mail. On two occasions, around 2003 and 2005, Kalhøj agreed to do Danish-English translations of documents James was interested in, although he told the court he is not a professional translator. He said he took the jobs to help a friend, and out of an interest in freelance academic and writing work.
The first translation job was only 20 pages, and Kalhøj said he did not charge although James insisted on giving him approximately $50. For the second translation job, a full book, James and Kalhøj agreed on compensation of about $1,000. Kalhoj did not receive payment for either job until years later, in 2009, after James was elected senator.
Around 2006, James began asking Kalhøj to be part of a larger research and translation project related to the Fireburn and the women who led it. Kalhøj said he turned James down because he thought it seemed a large job for a full-time, professional translator. James continued to ask over the course of years for Kalhøj to be involved, but Kalhøj said he never took on the job.
An October 2010 request by James to receive Legislature funding in the amount of $13,690 for the Fireburn project, however, indicates that the money was to pay for services rendered by Kalhøj. According to Kalhøj, he never saw that invoice and there is a minor misspelling in his name and a mistake in his address.
A smaller funding request James submitted in September 2009 also came attached to an invoice with Kalhøj's name on it. Although all of James' funding requests are for Fireburn research, the translation projects listed on the invoice are the unrelated ones Kalhøj did for James years prior, and the $2,921 price tag is nearly triple what Kalhøj billed and received.
The Legislature's business office did not deny any of the funding requests James submitted for his Fireburn project during his time as senator, which amounted to more than $90,000 dollars. According to Michael Benjamin, the Legislature's acting business director, who was assistant business director during James' time in office, if any of the money James received was not used for legislative purposes, it should have been returned.
According to one of James' funding requests, documents in the Danish National Archive related to the Fireburn would be "shared with the local educational institutions and public libraries in order to encourage scholarship on one of the Virgin Islands' most historic events." He said the research was being done in advance of legislation that would further that aim.
Benjamin said under questioning the Legislature's business office made no follow-up attempts to track where any of the money James was given ended up, and only about half of the requests resulted in any kind of receipts. The largest allocation awarded to James for Fireburn research was for $27,636. Another request for $16,225 was granted in December 2009; an invoice was attached for research fees to be paid to a Lise Johansen, who prosecutors allege does not exist.
The prosecution said in its opening argument "the defendant's debt is what drove him to steal from the coffers of the Legislature."
According to testimony by Grace Fahie Lindo, director of payroll at the V.I. Department of Finance, and Beverly Hermon Beck, federal disclosure officer for the Internal Revenue Bureau, James did have substantial tax debt during his time in the senate, money that was being subtracted from his paychecks. During the summer of 2010, James was receiving a bi-weekly paycheck of just over $500 as a senator, due to a levy placed by the IRB to collect almost $200,000 in owed taxes.
Federal prosecutor Delia Smith said that James must have ben "shocked" when he discovered that creating fake invoices was all it took to "receive check after check after check" from the Legislature.
Defense attorney Omodare Jupiter said James "didn't have a scheme but a vision," one that aimed to make V.I. history more accessible in the territory. As a lifelong student of the Fireburn, Jupiter argued, James "took on a huge responsibility no one else would." He added that the Legislature's business office shirked its responsibility by not managing the funds for the project directly. He also argued that Tropical Storm Tomas in 2010 flooded James' St. Croix office, destroying documents that would have helped proved the legitimacy of James' Fireburn project.
James' trial is scheduled to continue at 9 a.m. Tuesday on St. Thomas.