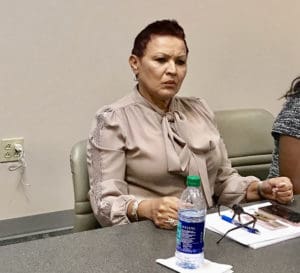 Work was scheduled to begin this week to move four modular units into place at the Gov. Juan F. Luis Hospital and begin site preparations, the hospital board was told Monday at its monthly meeting.
"A New York team will be on the ground this week to move the modular units into a place to allow the construction company to start site preparation," CEO Wanda Ruben said.
Mobile Health Care Facility, which has been working on the design of the JFL site to ensure the trailers can be set up successfully, also was given notice to proceed. It has have started the renovation of the dialysis trailer to fit the space.
JFL is still waiting for payments on performance bonds from the MHCF before issuing the 60 percent down payment as required. The contractor had questions on the contract's wording, Ruben said.
Also at the meeting:
– Board members discussed the need to hire nurse practitioners at a maximum starting salary of $96,000, and the apparent lack of interest with professionals seeking employment with JFL. Board member Aracelis B. Walcott asked if there are other perks in addition to the salary to attract the nursing staff.
– The Executive Committee approved the Hospital Billing and Collection Services, Ltd.
for the purpose of providing billing and collections services as recommended by the Finance Committee and the Chef financial Officer Deepak Bansal, according to board member Vera Falu.
– Also in discussion was the question of whether JFL is current with payments to GERS.
"While we are making payments to GERS, they are not electronically uploaded," said Bansal. "We discovered in late December that we must go back and upload the previous years before GERS would accept 2018. We have uploaded from 2016 through July 2017.
Bansal added that HBCS's new billing service will get the hospital back on track with full implementation and an appropriate method in September.
– The Executive Committee approved three physician's applications for initial appointment of medical staff privileges for a period of one year, through July 16, 2019, as recommended by the Performance Improvement
Committee.
– Bansal said JFL has been awarded another $29 million in federal Community Disaster Assistance Loans, bringing told disaster loans to $42 million.
"To use all the funds, JFL will have to draw down about $6 million per month," said Bansal.
– Ruben reported that 21 registered nurses received trauma certification on Aug. 11. This is a requirement for staff and equips the nurses to better stabilize trauma patients in a safe way, she said.